Centre of attention
Super Rugby Aotearoa: Round 5
Welcome to this week's edition of The Tip-On!
If you want to watch one of the best forgotten finishes by Rieko Ioane (who again showed his value as a strike runner in the red zone on Saturday), you can find it here.
---
Laying foundations
Led by Patrick Tuipulotu from the second row, the skill, physicality and cohesion of the Blues forwards have been key to the team's resurgence in 2020.
The team's gameplan is centred on the ability of Tom Coventry's pack to dominate collisions, providing front-foot ball in the middle of the field for their dangerous outside backs to attack off - and, as Eoin Toolan noted in this week's episode of The42 Rugby Weekly Extra, shaping their opponent's backfield in a way that allows their playmakers to kick the ball to space effectively.
Their forwards have done more on-ball work than those of any other franchise so far in Super Rugby Aotearoa, and have been particularly effective at shutting down the carrying of their direct counterparts: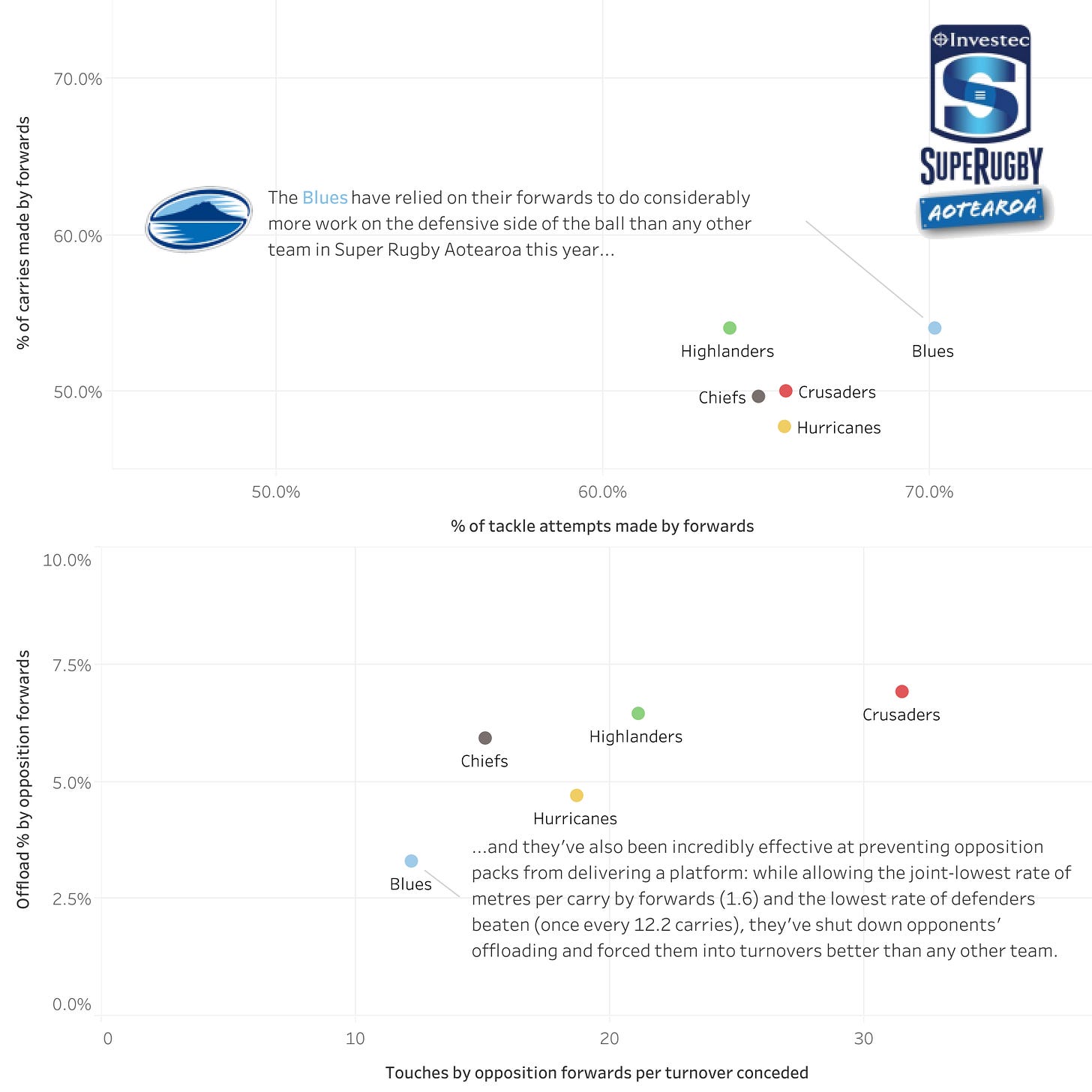 Despite his overall pride in the effort of his side, head coach Leon MacDonald will have been disappointed that they weren't able to take advantage of what may have been his pack's best display of the season in Christchurch last Saturday.
In attack, their forwards averaged 2.0 metres per carry and beat a defender every 4.7 carries per ESPNScrum data - both marks better than their competition average coming into the game - with Akira Ioane a particularly destructive presence; the blindside flanker beat 4 defenders on 7 carries as he ran hard into contact.
Without the ball, the handled their Crusaders counterparts pretty comfortably: the home team's forwards were restricted to 1.2 metres per carry - having posted 2.0m on average in their earlier Super Rugby Aotearoa matches - and only beat 3 defenders on 67 carries in total, a much lower rate than the 17 defenders they had beaten on 173 carries coming into the game.
Ultimately, discipline proved to be a deciding factor in the outcome. The Blues conceded 12 penalties in total to the Crusaders' 6, and the 9-point difference between Richie Mo'unga's 4 kicked penalty goals and Otere Black's 1 made up almost all of the final 11-point margin. A number of in-at-the-side penalties in opposition territory in the first half were particularly damaging, as they thwarted excellent opportunities to convert their positive early play into a more dominant position on the scoreboard.
On the whole, however, their performance against the three-time defending champions of Super Rugby was strong, and their ability to dominate up front is one of a number of fundamental indicators - along with their adoption of a more kick-focused strategy - that Leon MacDonald is turning the franchise into a serious outfit on the field.
---
Meat pies
Will Jordan grabbed another try for the Crusaders in 17 minutes off the bench on Saturday, taking his Super Rugby Aotearoa total to 5 in only 253 minutes played.
His record throughout his first two seasons for the franchise has been truly exceptional, and the numbers speak for themselves: his average of 1.4 tries scored per 80 minutes in his Super Rugby career to date is the highest among all currently contracted Kiwi backs with more than 10 career tries - by almost half a try per game.
---
Lazy thinking
After one of his best performances in a Blues shirt in Christchurch last weekend, the narrative around Akira Ioane continued to shift.
Paul Cully of Stuff - who has been one of his harshest critics since the very beginning of his career - commented that he was "answering all those questions about his work rate" and "beginning to translate his potential into performance", having "morphed into a hard-working blindside". While Ioane has shifted from 8 to 6 for the Auckland franchise as a consequence of Hoskins Sotutu's emergence as a star ball-carrier, it is clear where the emphasis of that final quotation is meant to fall.
It is certainly true that the loose forward's career has not followed the trajectory which many expected when he was excelling in age-grade rugby and for the All Blacks Sevens as a teenager, and Steve Hansen did hang him out to dry in the press at the end of the 2019 Super Rugby season. However, to imply that Ioane has not performed effectively or consistently to this point in his career is to be wilfully obtuse.
As he has been taking on board feedback from international coaches on how to round out his game, he has remained one of the Blues' most impactful performers at domestic level:
His workload over 2018 and 2019 included 80-minute performances in 28 of his team's 32 games, and between 2016 and 2019 he bore the highest workload in attack of any of the players charted above: he contributed 9.4% of his team's carries during this period, while also beating defenders the most regularly and making more metres per carry than everyone except Ardie Savea and Dalton Papali'i. (Ioane averaged 2.1 more carries per 80 minutes than Savea over this period, and 6.3 more than Papali'i.)
This data cannot prove or disprove that Ioane met the standards that the All Blacks selectors were asking him to meet, but it does provide evidence to contradict the assertion that only now is he providing an acceptable level of on-field performance.
It is also notable that a number of positive public comments from those selectors and his Blues coaches over the last few years have been largely ignored in the framing of his story. Grant Fox's acknowledgement prior to the 2018 end-of-year tour that Ioane was "getting better at the areas he's been asked to improve at" was published under a headline suggesting that his "star [was] on the wane", and Leon MacDonald's comments at the beginning of this season that Ioane had "trained really well, [and] is fit and hungry" did nothing to stop his non-selection for the opening rounds of Super Rugby being painted in the same light.
Cully's insistence that "you have to be harder on the ones with such natural talent" is slightly unsettling in its implication of what Ioane owes to those who cover and consume the sport he plays professionally, and it is this sentiment that drives the treatment of his measurable and effective efforts as a professional rugby player to date as insufficient.
This portrayal by the media is also a two-dimensional, artificial one. Being treated as a whole, complex human being as well as a professional athlete is not a privilege that a sportsperson earns once they've met the arbitrary standards of those covering them - it is a fundamental right. In Ioane's case, the absence of such treatment has had a clear impact on his mental heath: in his appearance on the Ardie Savea Podcast, he made specific reference to the fact that he was "trying to impress too many outside influences" and that it sapped his love for the game, leaving him in an emotionally vulnerable position.
A number of New Zealand's top players have recently expressed frustration with how the rugby media covers them as individuals, and the emotional impact on Ioane of the example that has repeatedly been made of him in the press is a compelling bit of evidence in their favour. The power that journalists and broadcasters have to shape the life stories of athletes is one which they need to acknowledge and keep at the forefront of their thinking as they make decisions about who to cover and why.
His treatment is also a reminder of the way in which common tropes tend to follow athletes of colour around in all codes; as Sotutu found out early in his career, even professional coaching teams are not immune to these unconscious biases. Increasing diversity of representation in press boxes and in positions of power within professional sports teams is a necessary step towards addressing this issue, but it is far from sufficient; white journalists also have a duty to acknowledge and confront these biases that inflect their reporting.
Ioane's story is a reminder that journalism doesn't exist in a vacuum. While it is heartening to see him thriving as part of an excellent Blues side in Super Rugby Aotearoa, he has deserved better from the media all along.
---
Centres of power
How the North and South Islands match up in terms of the quantity of players they produce for the men's professional game has been widely discussed since the announcement that the traditional interinsular game will be reinstated - likely for this year only - at the end of August.
Using the official selection criterion of first professional province, the All Blacks' World Cup squad last year showed a pretty even split: 15 players named were from the North Island, with 16 from the South. More tellingly, 27 of the 31 began their professional careers in 1 of the 5 Super Rugby hubs - Auckland, Hamilton (for Waikato), Wellington, Christchurch (Canterbury) and Dunedin (Otago) - with 13 of those players having started out in red and black.
There is slightly less concentration of talent in the Black Ferns' 31-strong squad named for 2020: those 5 major provinces contributed 24 players. The lack of a developed professional infrastructure in the women's game is also evident in the fact that the distribution of players matches the country's demographic spread more neatly: 39% of the squad began their provincial careers in Auckland, a region which contains an estimated 33% of the country's total population.
---
Pass of the week
The Hurricanes of recent seasons - first under Chris Boyd, then under John Plumtree and now under Jason Holland - have been consistently innovative in the way that they've integrated their backline players into the standard attacking shapes and structures used by their forwards.
In Round 5 of this year's Super Rugby competition against the Sunwolves, they brought centre Vince Aso into their primary forward pod off 9 after a receiving a kick-off to serve as a more comfortable first receiver as they looked to shift the ball wide through a screen play. Against the Crusaders in Round 2 of Super Rugby Aotearoa, they then ran a play off 10 to a pod in midfield consisting of 2 forwards and Ngani Laumape, with Du'Plessis Kirifi - the man in the middle - dropping a slick ball back to Aso behind his midfield partner's hard unders line.
Last weekend against the Highlanders, they went back to one of their favourite looks in the build-up to their second try: injecting Jordie Barrett into the line late between 2 of 3 players in a forward pod ready to carry off 10. Barrett scored directly from this shape against the Bulls back in 2017, hiding himself from view behind the considerable bulk of Loni Uhila before bursting onto a tip-on from the prop and breaking the line; it was then sighted again against the Crusaders in 2018, with Chris Eves throwing the key pass to the fullback in this instance.
Used sparingly, it's a simple and effective way of creating a numerical overload in the middle of the field. With the second pass of the sequence thrown by the first receiver to the second man ('B') in a pod of 3, that player runs directly at his opposite and forces him to commit to a tackle; the third man in the grouping ('C') can then focus on drawing the attention of the next defender on the outside. If both of these players attract the defence's eyes, the trail runner can time his run from behind B to C's inside shoulder and go through unmarked and untouched.
On Sunday, they ran the play narrower and flatter than usual; this meant that Tyrel Lomax - filling the 'C' position in the pod - had to work harder to draw his defender away and open the space on his inside shoulder. He did so exceptionally well, moving just enough in Dillon Hunt's peripheral vision to create a gap in which Scrafton (B) could hang the ball for Barrett to attack: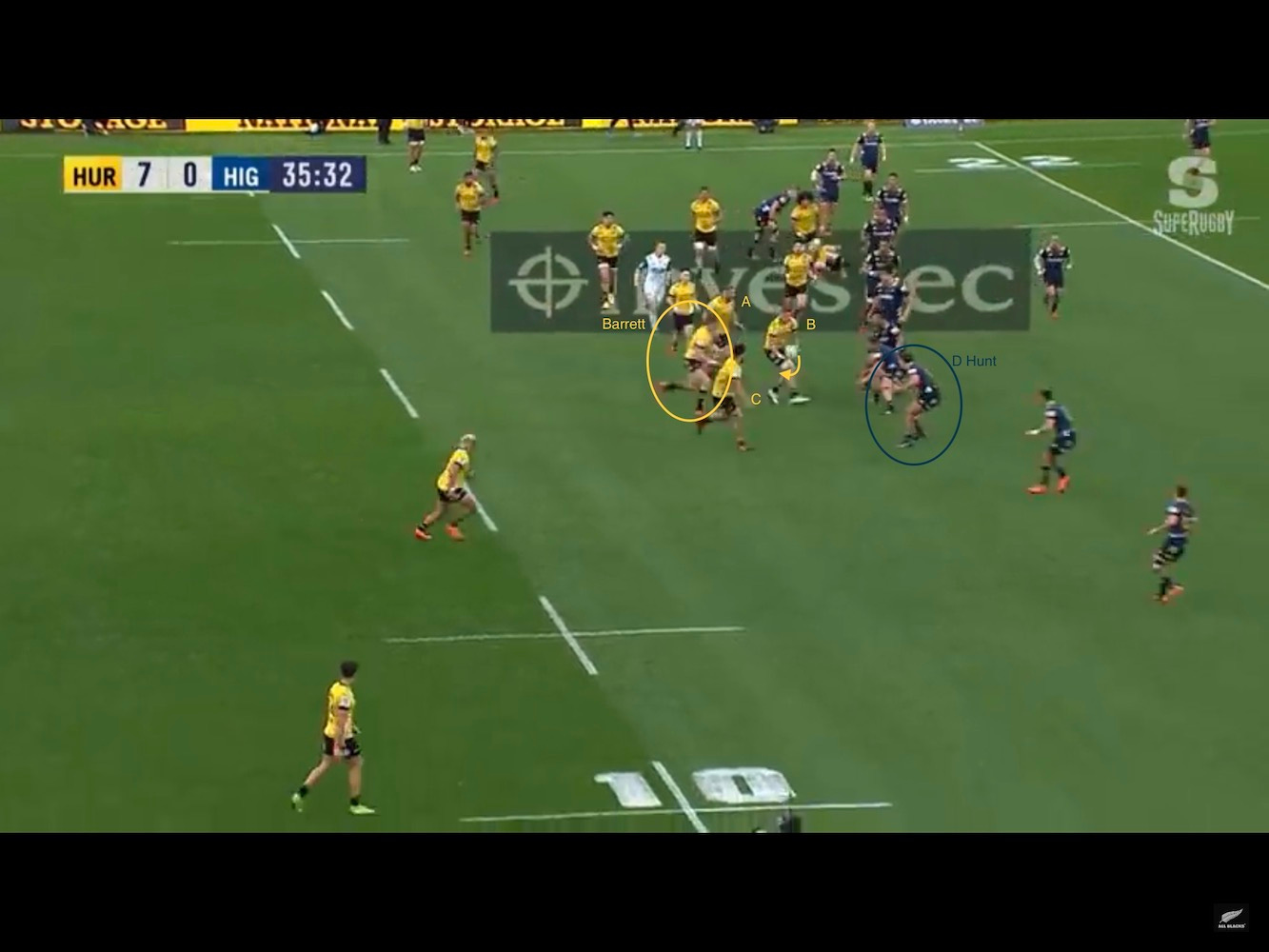 After breaking the line, it's far from a walk-in; Barrett has to make use of the exceptional passing distance he can generate off his left hand to find Kobus van Wyk, who has held his width on the right touchline and finishes in the corner.
---
Quick hits