Return of the king
Super Rugby Aotearoa: Round 4
Welcome to this week's edition of The Tip-On!
If you want to watch Dan Carter's first match back in New Zealand - which was filled with touches like this - you can find it here.
---
Southern classic
While the Crusaders and Highlanders' shared history goes all the way back to the beginning of professional rugby in New Zealand, their clashes under the roof in Dunedin have made for especially compelling viewing in recent years - and Saturday's 20-40 away win was no different.
The current Super Rugby champions have typically handled their South Island rivals comfortably on their own turf since the start of the 2016 season - Mitch Hunt's heartbreaker aside - with their 6 home wins over this period coming at an average scoreline of 33.5 points to 14.7.
However, the franchises have split the 4 games they've played at Forsyth Barr Stadium over the same timeframe; after the Crusaders pulled away late at the weekend, the combined scoreline across these 320 minutes sits at 106-113. This makes the Dunedin match between the teams one of the most tightly contested Kiwi derbies over the last 5 seasons: with 48% of points scored by the home team, only the Blues' home games against the Chiefs (89-88 in 4 games) and the Chiefs' home games against the Hurricanes (119-117 in 5) have been closer.
As well as scoreboard-related tension - the margin in each of the 4 matches has been in single digits going into the final 10 minutes - the contrasting styles of the 2 teams have also made the games incredibly watchable.
The Highlanders have been a team comfortable without the ball in recent years, and the Crusaders' last 4 trips to Dunedin have consequently followed a consistent pattern: the home side have averaged only 38% of the total carries in these games per ESPNScrum (comfortably the lowest mark by any Kiwi side at home in a derby game over this period) as the visitors try to break the door down. Nonetheless, despite limited possession, they can be just as incisive as their northern neighbours.
The combination of these contrasting approaches to the game and the fast-paced, ball-in-hand rugby encouraged by an indoor stadium has produced incredible results: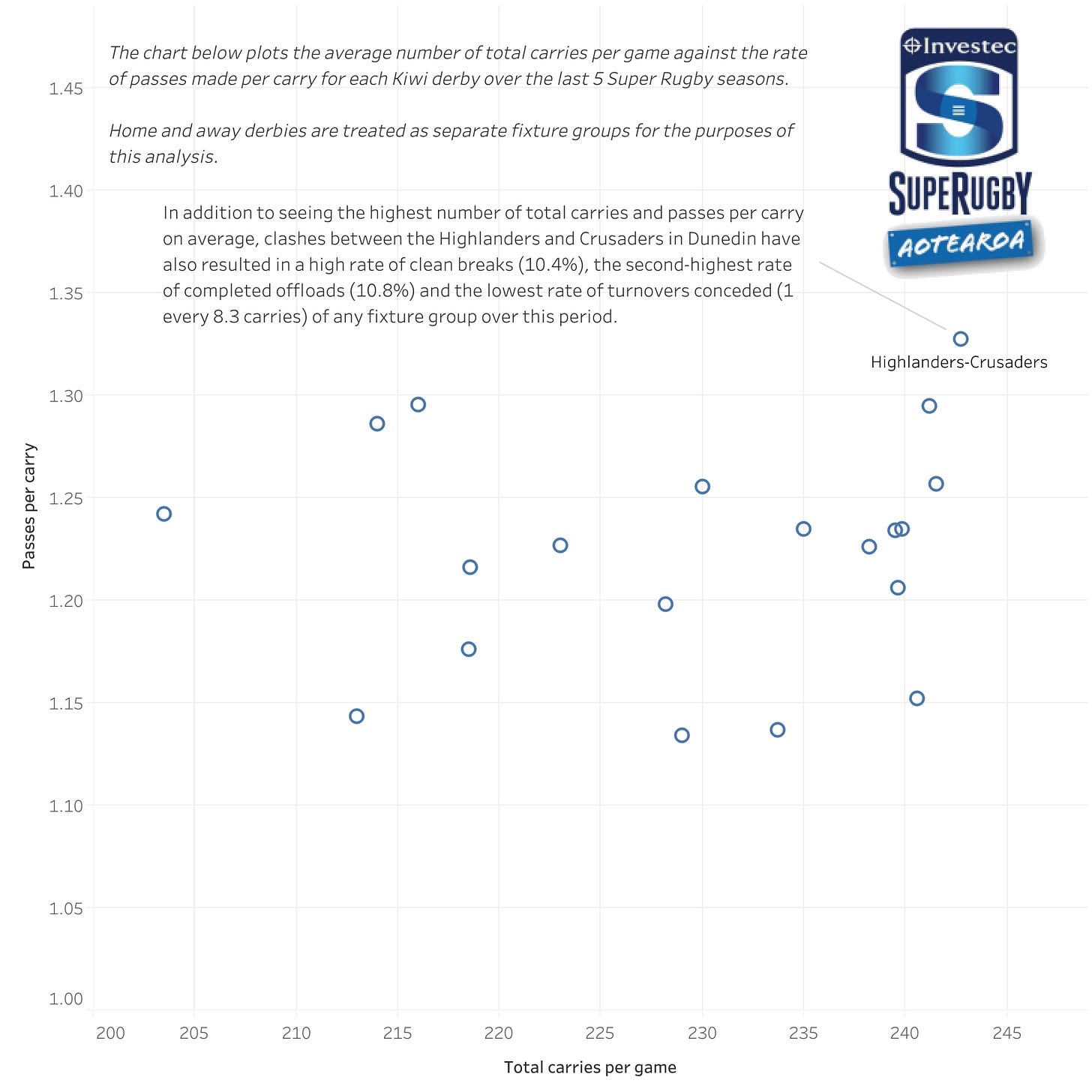 Crusaders CEO Colin Mansbridge has recently been incredibly vocal on social media about the benefits of playing under a roof, and many fans (and players) will agree with him: the sooner Christchurch's new stadium is ready, the better.
---
Measuring up
"You don't have to be Einstein to know we're spreading [our] net widely at lock. Scott Barrett's injury is going to make that worse and more obvious. If you're a young lock in this country right now then play well."
Ian Foster couldn't have made it much clearer in an interview with Liam Napier for the NZ Herald this week: as soon as international rugby resumes, there will be ample opportunity for a number of uncapped second rows to make an impression in the All Blacks environment.
After another strong display against the Crusaders at the weekend, the Highlanders' Pari Pari Parkinson - all 2-plus metres of him - should position himself at the front of the queue if he continues on his current trajectory. In addition to the obvious advantages in contact that his size gives him, he has also been a key part of his team's effective lineout and maul work over the last month.
However, it will be the combination of these fundamentals with his ability to add value on the ball that excites Foster the most. Tony Brown and Aaron Mauger have their Highlanders side playing clever, varied attacking rugby - after using backdoor screen passes from their forward pods off 9 last week to move the Blues around, on Saturday they used outside-shoulder tip-ons much more frequently - and Parkinson has been a focal point in midfield: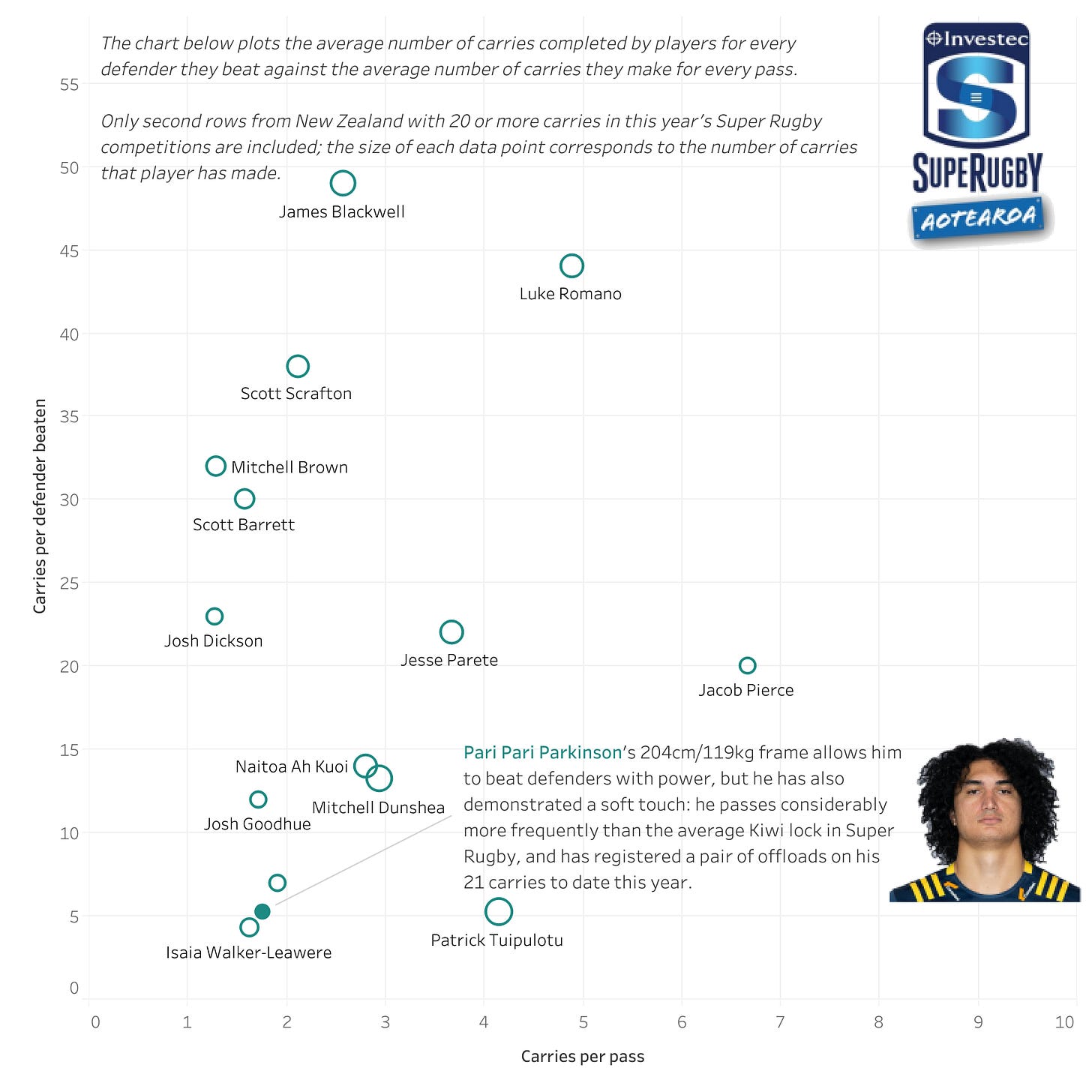 ---
Eyes of the world
Australia and New Zealand's successful combined bid for the next FIFA Women's World Cup means that Kiwis will host the flagship women's events of 3 sports with global reach in the space of the next 3 years: before the football kicks off in 2023, the cricket and rugby union World Cups will both take place in their country in 2021.
The NZ government's recently announced sport recovery package has also "reiterated [their] commitment to women and girls, and diverse communities", according to the CEO of Women in Sport Aotearoa, Rachel Froggatt. Netball's ANZ Premiership has been a notable beneficiary, with its games back up and running quickly after lockdown ended and - like Super Rugby Aotearoa - being broadcast to television audiences across the world.
These positive developments for women's sport in the country were the focus of The Detail (an RNZ podcast) this week in a conversation with Suzanne McFadden, the editor of LockerRoom. One of the topics on which it touched was the relationship between journalism and advocacy; McFadden feels that the line between the two in her own career has become "blurred" over time, having started out seeing herself more purely as a "sports journalist".
Clearly distinguishing between journalism and advocacy is certainly a rather false delineation in this case, in that it implies that allocating an overwhelming majority both of media coverage and of funding to men's codes is an apolitical choice. Rather, the current state of affairs is a consequence of the impact of social norms stretching back centuries which have seen sport coded as a 'male' pursuit, and the rights and opportunities afforded to women in this sphere severely restricted.
Framed in its appropriate context, impetus for increased investment in and heightened awareness of women's sport is therefore not so much a push for advancement but a push for redress and reparation. It is a push for women at the top of their game to finally be afforded the same opportunities as men to pursue it professionally and sustainably - a push which will afford them more resources and time to hone their craft, raise standards even higher, tie in existing sports fans and draw in new ones, and ultimately inspire the next generation of stars in a virtuous cycle.
Whether they like it or not, all journalists are effectively advocates for a particular world view - even if they view a reluctance to veer from the middle ground around the status quo as a necessary prerequisite of 'objective' and 'unprejudiced' analysis. As a consequence of this, all media organisations need to reflect on and clarify the ethical principles which they want to be reflected in their work, and come up with a strategy for how these principles should be implemented.
With 3 World Cups scheduled for their own backyard over the next few years, those who cover sport in New Zealand don't have any time to waste.
---
The Great Schism?
COVID-19 may bring about the circumstances which finally cause SANZAAR to begin to rupture down the middle.
Leaked details from New Zealand Rugby's review into "the future of Super Rugby in New Zealand" indicate that a trans-Tasman club competition will be proposed for 2021, with potential for the addition of a team from the Pacific Islands.
In such a scenario, teams from Argentina and South Africa - which already has sides competing in a European domestic league - would drop out next year and leave the existing alliance of the 4 Tier 1 nations in the Southern Hemisphere close to obsolete. (It is worth noting that SANZAAR refuted these reports as "speculative", and is "very positive" about its chances of delivering the Rugby Championship - its international competition - later this year.)
A key question in NZR's review is whether or not expanding top-level professional rugby in the country beyond 5 teams is feasible or desirable, and their answer will have a material impact on the level of integration they seek with their Australian neighbours. However, there are a number of reasons to think that scaling up would not be in the long-term interests of professional rugby in the country.
In addition to losing out on the beneficial impacts of scarcity and concentration of talent on local interest in domestic rugby, diluting the country's player base across a higher number of franchises would also likely have a significant high-performance impact at international level.
Ben Darwin of GainLine Analytics is on the record saying that doing so would cause the All Blacks to "go backwards" from a cohesion perspective, and NZR are clearly aware of the "watering down of high performance" that would result from adding more local teams to a new competition.
Given the degree to which the global reputation of the All Blacks drives the union's revenues - via both broadcast and sponsorship deals - and allows it to punch significantly above its weight financially, any move which could diminish its national team's standing in the rugby world will consequently be difficult for the board to justify.
---
Pass of the week
TJ Perenara's importance as a set-piece playmaker for the Hurricanes is hard to understate.
Their primary attacking plans from both lineout and scrum platforms are centred around getting their scrum-half running square at the defence - with centre Ngani Laumape on a hard line off his shoulder - by delegating the first pass to one of their back-row forwards. Their first try against the Chiefs in Round 4 was a good example of this, as Perenara and Laumape compressed the midfield defence and created space on the edge for Jordie Barrett to find his winger.
Perenara's comfort in this first-receiver role has pushed Jason Holland to risk not carrying an out-and-out fly-half on his bench in all 3 of the Wellington franchise's Super Rugby Aotearoa matches to date, with his primary 9 sliding out to 10 in general play during the final quarter.
In addition to the extra flexibility this has given the head coach with his reserves, it has also allowed him to introduce a radically different weapon at scrum-half late in games. The electric pace of Jamie Booth (who also has excellent chemistry with Laumape, his former schoolmate) presents a new picture for defences to try and work out, and the Hurricanes exploited this to their advantage with a variation on their classic set-piece look on Sunday.
With second row Scott Scrafton in the bin, the away side had a scrum just in front of the Chiefs' 22m line in the left-hand 15m channel from which to attack. Ardie Savea packs down at the base, and - with added urgency as a result of their numerical disadvantage - emerges quickly with the ball after a swift hook from Dane Coles. However, rather than immediately transferring it on to his halfback, Savea sets off towards Chiefs fly-half Aaron Cruden at pace; the loose forward will serve as the primary decision-maker in this instance, with Booth's attributes being put to better use behind Laumape's unders line.
Cruden's outside man, Quinn Tupaea, has little option but to respect the threat of 2 of New Zealand rugby's most powerful carriers running downhill into the 10 channel, and Brad Weber also focuses stopping Savea on his inside. This leaves the Chiefs down a sweeper behind the primary defensive line, and - as soon as the scrum-half commits to the tackle - Savea swivels at full pace to release Booth: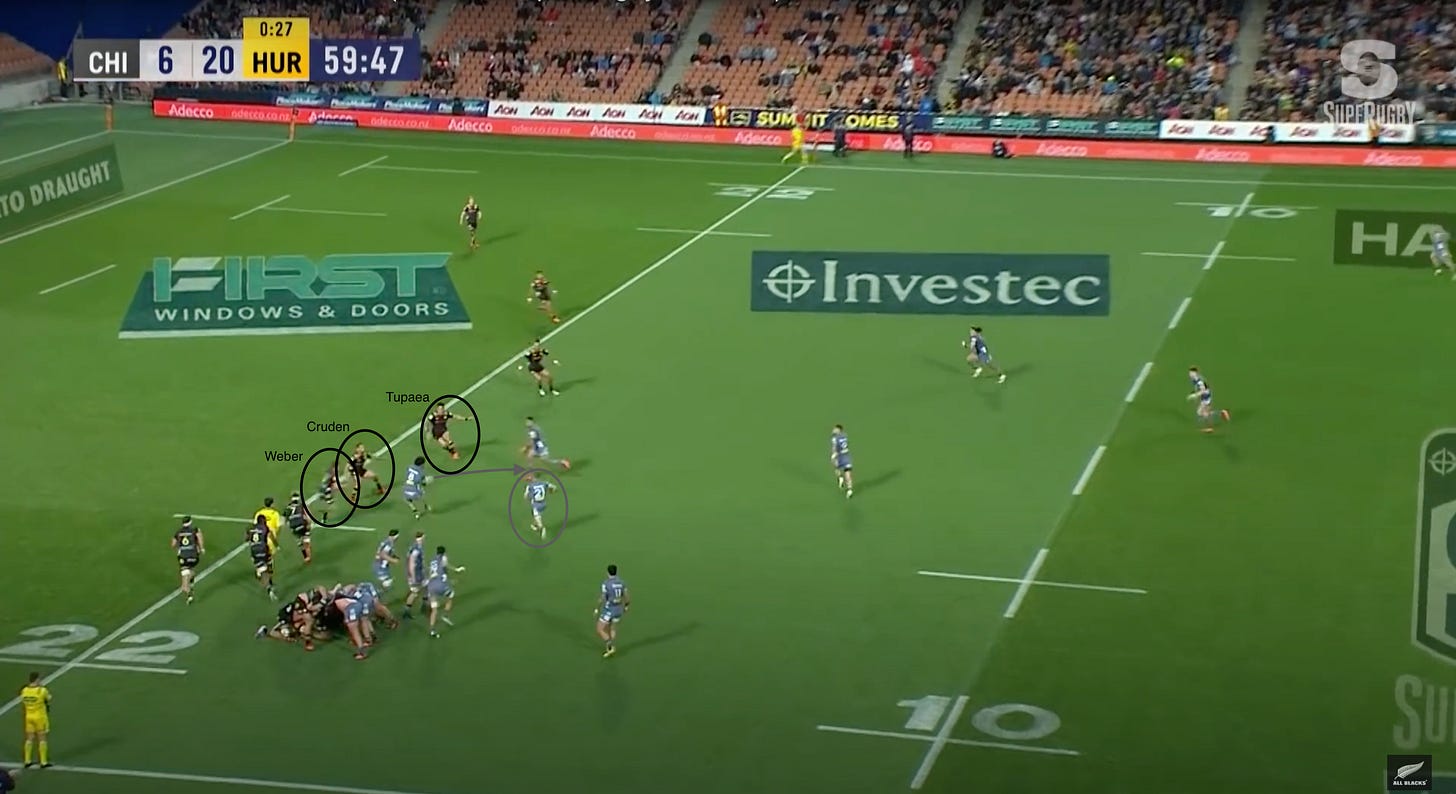 The replacement holds his run expertly, keeping enough of a distance from Tupaea - whose momentum is similarly committed towards Laumape - to allow him to scamper by the centre's outside shoulder and into the hole his teammates have created.
With Weber out of the picture and McKenzie having to scramble back from his starting position on the left wing, Booth is able to turn the corner and get far enough downfield that the remaining cover has no chance of preventing the score after he finds his support on the outside.
---
Quick hits