Both barrels
Super Rugby Aotearoa: Round 7
Welcome to this week's edition of The Tip-On!
If you want to see Te Paea Cook-Savage - a versatile back who started at 15 and 12 for the New Zealand Barbarians Schools team in 2019, as well as featuring prominently in the Condor Sevens tournament and in the Red Bull Ignite7 programme - extend his lead as the Waikato Premiership A's top try-scorer, you can find footage of his 8th and 9th dots of the season here.
---
Late to the party
After winning the first 4 men's U20 World Championships between 2008 and 2011, New Zealand have only come out of the tournament on top twice in the last 8 years.
Nonetheless, each of those wins - in 2015 and 2017 - was mightily impressive. Missing the eligible Damian McKenzie for the earlier of those titles, they beat an England team containing Ellis Genge, Charlie Ewels, Lewis Ludlam and Nick Tompkins 21-16; without Jordie Barrett and Rieko Ioane for the latter of the 2, they overcame the same nation - with Ben Earl, Zach Mercer, Max Malins, Jacob Umaga and Gabriel Ibitoye in the starting lineup - by a record margin of 64 points to 17.
Unsurprisingly, it is the players that made up the bulk of those successful sides - those born in 1995 and 1997 - who have now made Super Rugby Aotearoa their own. 61 of the 194 individuals named in this year's official squad lists last November - 31.4% of the total - were born in those 2 years alone.
As those in the 1997 cohort took their first steps into adult rugby, Scot's College's Peter Umaga-Jensen - having been selected for New Zealand Secondary Schools in both 2014 and 2015 alongside his twin brother, and rolled out in a Super Rugby preseason fixture for the Hurricanes barely a month after his 18th birthday - looked to have been anointed as one of its stars in the making.
However - despite that early appearance for the Hurricanes and the award of a full contract in 2017 - it is only in the last year or so that the Wainuiomata product has been able to get sustained minutes at Super Rugby level. Following on from his 3 starts at 13 at the end of the 2019 season, he has made another 3 in Super Rugby Aotearoa, taking his place at outside centre for the Wellington club's recent victories over the Chiefs, Blues and Crusaders.
His performance in Christchurch at the weekend - with its punchy angles and neat distribution - was strikingly impressive, and he ended up with a try and a try assist to his name in a 63-minute effort. (While he was knocked out in the act of scoring, he has thankfully been given the all-clear by the Hurricanes' medical team this week.)
Alongside Ngani Laumape in midfield, he has had a positive influence in attack so far this year: per ESPNScrum, in his 3 starts he's made 5 clean breaks on 18 carries - a rate of 27.8%, compared to the average starting Kiwi midfielder's rate of 13.5% - and beaten 8 defenders (1 every 2.2 carries, compared to an average of 3.6).
The fact that he is still only 22 years old is a testament to his precocity when he arrived on the scene in Wellington over 4 years ago. His recent play has been particularly heartening given the injury struggles he has faced over that intervening period - and his path is a reminder that no 18-year-old's route to the top is guaranteed.
Comparing the amount of top-level rugby he has played since leaving school to fellow class-of-'97 midfielder Braydon Ennor - now firmly ensconced as a first-choice centre at the Crusaders - is instructive in this regard: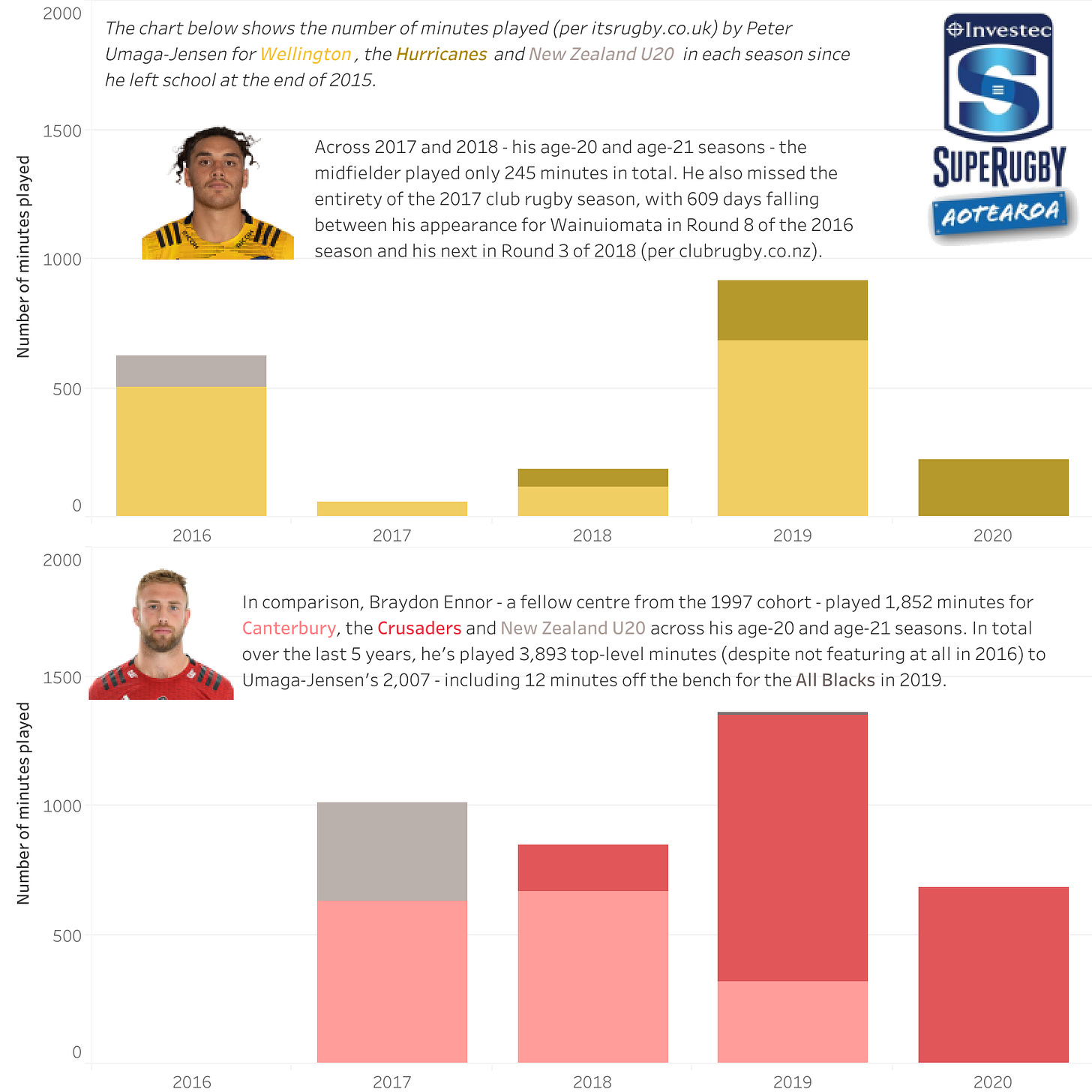 But Umaga-Jensen has always had time on his side - and is showing this season why current Hurricanes Recruitment & Development Manager Darren Larsen was so high on him during his U18 days. He has displayed over the last few weeks that he possesses both the skill level and - at 102kg - the physical capability to vault himself into senior international contention down the road.
While he missed out on a junior world title a few years ago, the Hurricane will be just another member of that 1997 class approaching his peak in 2023, ready to try and claim a bigger prize.
---
Twin threats
While Beauden Barrett's return to the 10 shirt at the weekend was marked by a number of sequences which supported Blues assistant Daniel Halangahu's assertion that the All Black is "the best running ten in the world", Richie Mo'unga's threat with ball in hand for the Crusaders was also clear for all to see.
Moreover, Round 7 showed how the 2 players operate in subtly different ways at first five-eighth. Taking over the starting role from Otere Black, Barrett's move into the front line saw the Blues change the way they used their first forward pod to link with their back division: Halangahu mentioned last week "just how flat and hard Beauden can play through that channel", and their pull-back passes to 10 were more shallow than they have been to allow Barrett to attack the line at pace.
So much of Barrett's work is done pre-catch: he commits to the channel he is going to attack early and backs his acceleration to take him through the gap. In this way, his footwork is much more akin to Will Jordan's than Mo'unga's; both players like to size up their options and set their course with a couple of direct strides, before letting their speed and deceptive lower-body strength do the rest.
In contrast, Mo'unga is a more patient and laterally explosive runner. The Crusaders' final try on Saturday was a product of their first five hanging back ever so slightly as he received a pull-back; as the Hurricanes' defensive line fractures, the balance he has retained allows him to pick his spot late and jink through before floating a scoring pass over to Sevu Reece.
It is this willingness to pause on the ball - coupled with his dynamite footwork - that makes Mo'unga such a threat in tight spaces: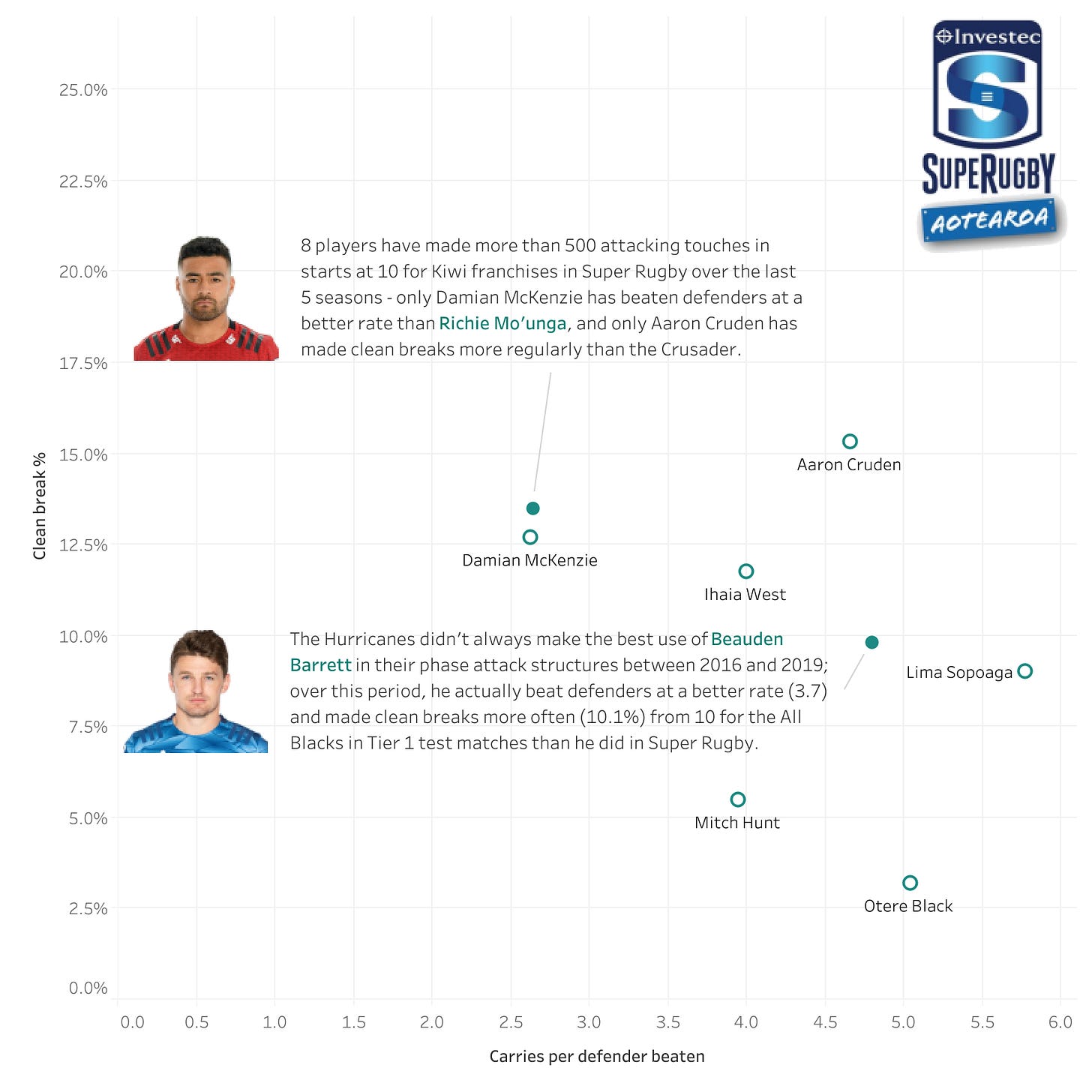 ---
Reinforcements
New Springboks head coach Jacques Nienaber has been trying to ensure that the welfare of his own players and staff will be prioritised if The Rugby Championship takes place in its entirety in New Zealand later this year.
He has spoken at length to News24 about the impact that the requirement to spend a couple of months away from home could have on squad-members' mental health, and also noted the potential logistical issues which may arise if Australia, Argentina or South Africa suffer injuries and require replacements at short notice.
Given this unique set of circumstances, there are a number of players already in New Zealand with links to these nations who could be in line for an emergency call-up in the coming months if things fall their way. The Blues' Mark Telea - whose father is South African - and the Hurricanes' Wes Goosen - who moved from the country to NZ at an early age - could both be options for Nienaber in the outside backs, but with form and age on their side they might choose to hold out for the possibility of an All Blacks cap in such a scenario.
Up front, Goosen's teammate Ricky Riccitelli could feel that his best chance of appearing for New Zealand has come and gone, and may be more willing to answer South Africa's call if injuries befall them in a specialist position. (His mother's family would be pleased.) Elsewhere in the front row, 37-year-old Ross Geldenhuys is still chugging along for the Chiefs, while loose forward Dylan Nel has been playing in the country for a number of years.
New Zealand and Australia are bound by many common demographic links, and the backgrounds of a couple of other Chiefs squad-members are testament to this: prop Aidan Ross and fly-half Tiaan Falcon were both born across the ditch, the latter while his father Gordon was playing rugby league for Penrith. There are also 3 potential emergency Wallabies at the Highlanders; Josh Dickson was born in Australia (but is currently out with a serious injury), Jack Whetton - who played for the Brumbies a number of seasons ago - reportedly has an Australian grandfather and Chris Kuridrani has played much of his rugby on that side of the Tasman.
However, any player with hopes of playing Super Rugby in 2021 may hesitate to commit given New Zealand Rugby's restrictions on the number of players in squads ineligible for the All Blacks, meaning that the best chance of this happening may be a proper fairytale. Step forward Nico Costa: the Argentinian scrum-half moved across the Pacific in his teens, and has played in the NPC for both Auckland and Southland.
He is currently playing club rugby for Eden in Auckland alongside his brother Ignacio, and doubtless would never have dreamt of a Pumas cap materialising this year. Nonetheless, 2020 feels like a year with plenty more surprises in store - and a storyline like Costa playing in The Rugby Championship would certainly be one of the happier ones.
---
Open doors
Players like Telea - whose mother is Samoan - may also gain more freedom to pursue test careers for Pacific Island nations without leaving New Zealand if Kanaloa Hawai'i is granted a licence to operate a team out of South Auckland in NZR's planned competition for 2021.
CEO Tracy Atiga has stressed the importance of international representation to their project:
"We're definitely going to the players who feel like they have a contribution at international level and if they are willing to play for their Pacific Island nations then we'll take them…It's just getting out players to understand that it's an honour to play for the Pacific islands…Because our club offers a professional opportunity to play for your home nation this could change things a lot."
Rugby Manager Cam Kilgour also stated in a recent interview with Rugby World that allowing players to pursue a top-level club career while also representing their countries is one of the franchise's priorities.
If the All Blacks do begin their season with a match against a 'Pacific XV' at Mount Smart Stadium (as has been reported by 1 News), the make-up of that team's squad may give an indication of which players could be incentivised to play for such a franchise.
---
Pass of the week
The Ponsonby Fillies might be the most talent-rich club side in New Zealand. From the Black Ferns' contracted squads for the 2019 and 2020 seasons, Cristo Tofa, Aldora Itunu, Eloise Blackwell, Charmaine McMenamin, Grace Kukutai and Natahlia Moors all started in their Coleman Shield semi-final victory over Marist last weekend.
Given the number of elite 15-a-side players they can already call upon, it's almost unfair that - with the suspension of the Black Ferns Sevens programme - they have also been able to add current World Player of the Year Ruby Tui and fellow squad-member Theresa Fitzpatrick into the mix. (Tui started at openside on Saturday, and Fitzpatrick at 13.)
With an excellent try assist, the midfielder - a World Cup winner with the Black Ferns in 2017 - showed the sort of skill and athleticism she and her sevens teammates will bring to the Farah Palmer Cup when it kicks off next month.
After a scrappy lineout is won by Blackwell, Fitzpatrick - who lines up at second receiver on this play - receives an early pass from her fly-half Moanekah Vaai. Vaai runs a loop line behind 12 Sylvia Brunt, but Fitzpatrick has already spotted the gap she wants to target; after dummying the drop-off to her first five, she steps off her left and slides between a pair of Marist defenders.
Once she takes the tackle, she is immediately aware of Brunt flooding through in support on her left shoulder. Moving forward through the collision, she shows excellent balance and body control to keep her shoulders square downfield and release a neat, accurate offload to her midfield partner: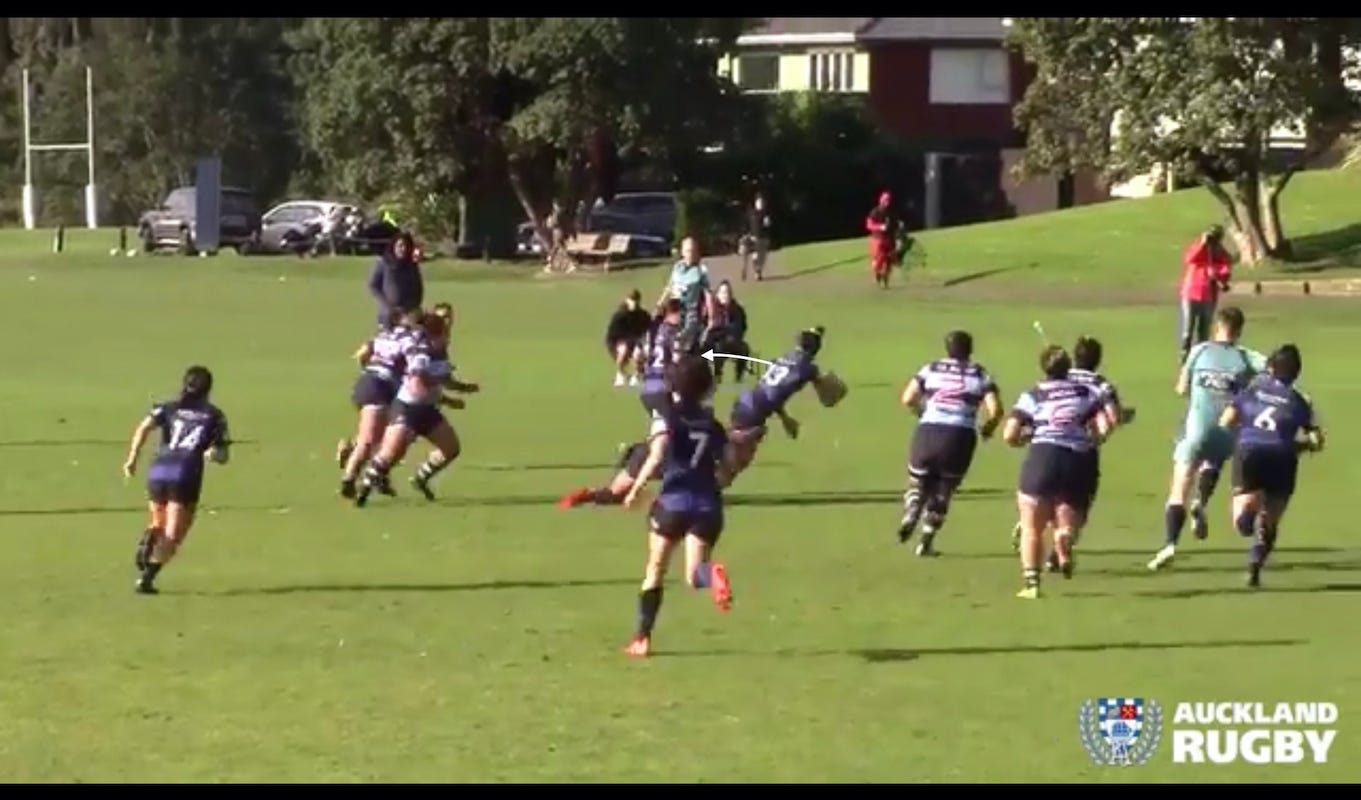 You can watch the try in full - along with the game's other scores - here. (Look out for an electric break and offload from fly-half Patricia Maliepo - who was at the Black Ferns' North Island camp this week - for Marist.)
---
Quick hits
---