In the firing line
Super Rugby Aotearoa: Round 6
Welcome to this week's edition of The Tip-On!
If you'd like to get away from some of the noise around Beauden Barrett's play for the Blues and simply enjoy his pure ball skills, you can find another example of them - from a training session last week - here.
---
Pass master
There are few players in Super Rugby Aotearoa more critical to their team's performance than Highlanders scrum-half Aaron Smith, as the All Black showed on Sunday against the Chiefs. He orchestrated his team's comeback from a 24-point deficit early in the second half to a victory after the siren, and in an 80-minute performance notched both a try and a try assist.
After struggling in the first part of the season, the Highlanders have come back from their COVID-19-enforced break a different side: their performance has improved markedly - their average points margin per 80 minutes is -5.2 in Super Rugby Aotearoa, up from -14.4 in the 5 matches of Super Rugby they played before the competition's postponement - as Aaron Mauger and Tony Brown have revamped their gameplan with the ball. They have kicked the ball once every 6.4 carries and averaged 1.31 passes per carry in Super Rugby Aotearoa (per ESPNScrum), up from pre-COVID marks of 4.2 and 1.14 respectively - both of which were the lowest rates among all Kiwi franchises in Super Rugby proper.
In order to execute their new ball-in-hand approach effectively, they have relied heavily on the handling ability of their tight forwards; Pari Pari Parkinson and others have been asked to function as the first receiver in their phase-attack set-up, with multiple passing options stationed around them. However, the success or failure of this approach still hinges on Smith at halfback - and specifically on his ability to "clear the ball" to them as quickly and cleanly as possible at ruck after ruck.
His technical approach to the pass is exceptional - as Geraint Davies showed in this video - and the width to which he can move the ball as a consequence is put to good use in the Highlanders' multiphase set-piece attacks (as Charlie Morgan discussed in an excellent piece earlier this week) and in the red zone. (Both Morgan and Davies also point to the relentlessness of his support play, and this was never clearer than during his own score on Sunday.)
All in all, no one else in New Zealand comes close to his overall influence on the game at his position: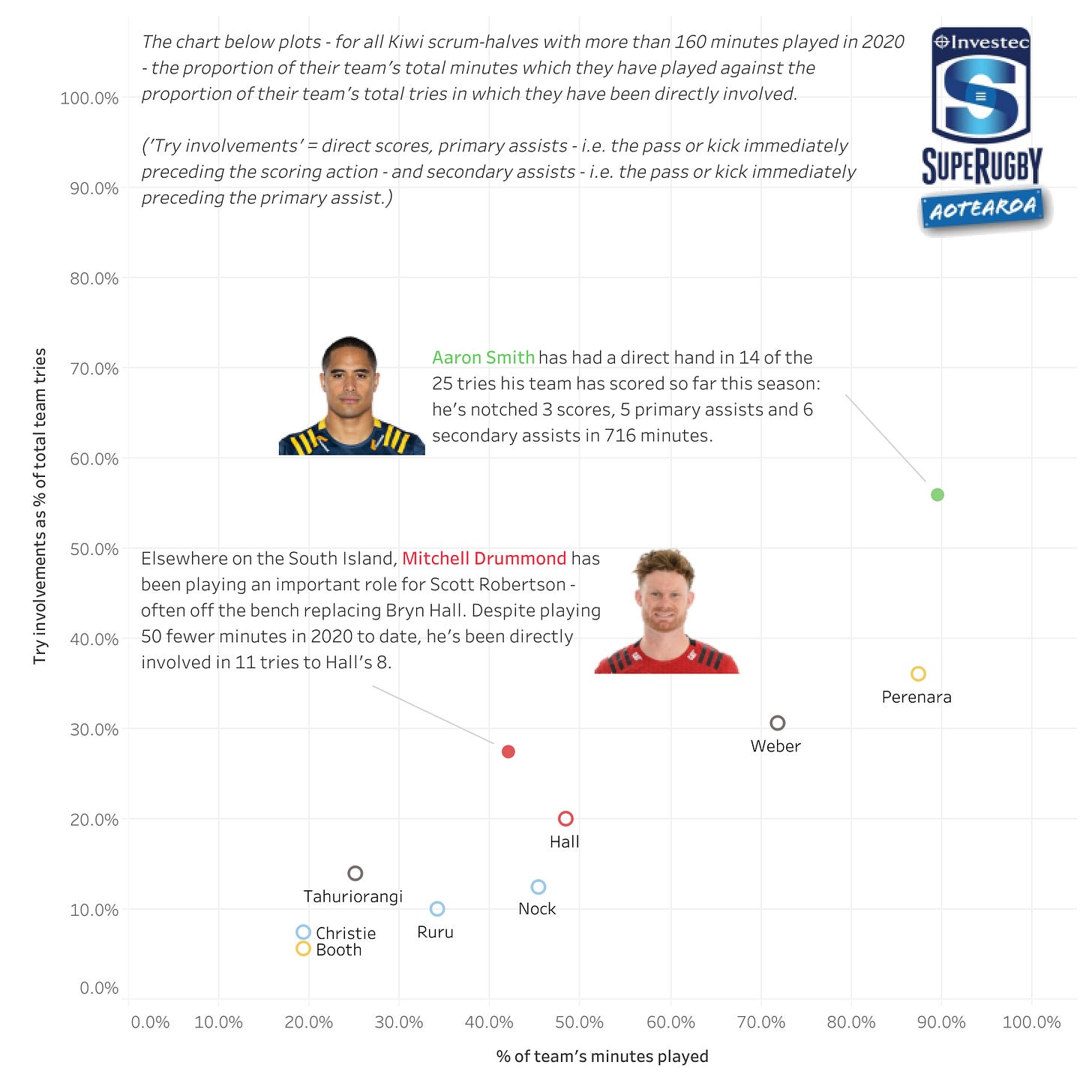 Smith's try against the Chiefs - during the build-up to which he carried twice - is an example of how his role in the Highlanders attack has altered slightly in the past couple of years.
Across the 2019 and 2020 seasons, he has been getting himself on the ball to run more regularly - completing a carry every 10.7 passes in this period, compared to once every 11.7 between 2016 and 2018 - and has become a more potent threat: his clean break rate is slightly up from 14.3% to 16.7% from the latter period to the former, with his rate of defenders beaten also improving markedly from once every 4.6 carries to once every 3.8.
These figures also hold up well relative to his peers. As the graph below shows, he's at the top end of Kiwi scrum-halves in terms of how regularly he has both carried and made breaks during the 2020 season to date: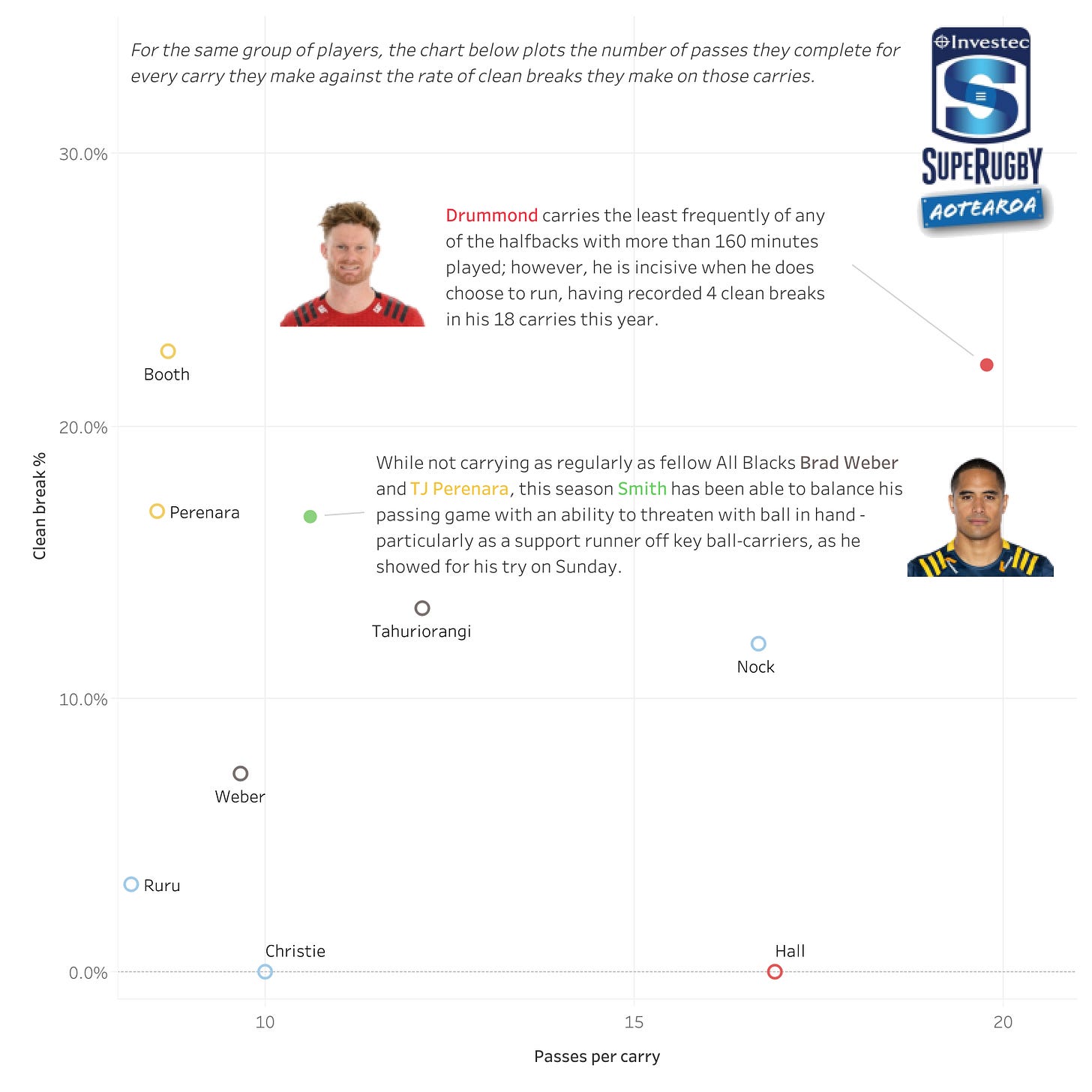 This ability to combine pristine, consistent delivery with an active ball-carrying threat is one of the things which is keeping Smith ahead of his main competitors for the All Blacks' 9 jersey, TJ Perenara and Brad Weber.
However, it's also worth mentioning the play of Mitchell Drummond - whose figures are highlighted in the graphics above along with Smith's - in discussions about Ian Foster's options at the position.
As the first chart shows, the 1-cap international been directly involved in more of the Crusaders' tries than his colleague Bryn Hall despite playing fewer minutes. Often introduced as a substitute in the final quarter to help his team across the line, Scott Robertson reckons that Drummond is "the best finisher in world rugby off the bench, as a halfback".
South Island coaches Brad Mooar and Greg Feek may opt to give incumbent All Black squad member Weber (who began his provincial career with Otago) the start at scrum-half in the North v South match at the end of August and spring Drummond off the pine late, but - given the age profile of New Zealand's other international halfbacks - it may be the 26-year-old Crusader who eventually steps forward as the best option to succeed Smith in the long term.
---
Backward steps
After getting the better of the Crusaders pack in their defeat in Christchurch a week prior, Leon MacDonald felt that the Blues forwards - down their best ball-carrier in loose forward Hoskins Sotutu - weren't able to set the same platform for their team against the Hurricanes in Wellington on Saturday.
His comment that they "didn't dominate the collisions like [they] have done" is backed up by the data: their pack's rate of 1.2 metres per carry was significantly down on the mark of 2.0 they posted against the Crusaders - and their average of 1.9m across the first 5 rounds of Super Rugby Aotearoa as a whole.
---
Crossing the line
Ben Smith (an excellent analyst at RugbyPass - not that one) wrote a piece earlier this week addressing what New Zealand Rugby needs to do - on the back of the relative commercial success of Super Rugby Aotearoa - to ensure that its domestic competition can "command the global attention [it needs] to make it a valuable proposition" for seasons to come.
His point that more regular and better-publicised press conferences and a more coherent media strategy would help "to sell this great competition" is an uncontentious one; recent pieces by Paul Cully for Stuff and Scotty Stevenson for The Spinoff have addressed the issue of marketing the game in New Zealand from similar angles.
However, his plea for official social media channels to ditch promotion based on the cordial off-field relationships between players on opposing sides and generate interest by creating theatre and "faux drama" - with Owen Farrell and his confrontational England side used as examples of the sort of "authentic and unapologetic" characters that draw fan engagement and interest - seems misplaced.
The reason there is so much promotion based around this sort of content is that these relationships appear to be genuine - whether it's Beauden Barrett and Richie Mo'unga sharing a laugh after the Crusaders-Blues clash in Christchurch, or Tongan All Blacks Shannon Frizell and Ngani Laumape chatting after the Highlanders played the Hurricanes. There are many more examples of these bonds that exist across franchises, and 6 weeks into Super Rugby Aotearoa they are yet to detract from its competitive edge; just last Sunday, Sky Sport showed Aaron Smith and Brad Weber having a yarn in the tunnel not long after they had been involved in a heated on-field scuffle.
Downplaying real human connections like these in service of traditional sporting narratives - with the alpha male competitor their lodestar - is anything but authentic. As it seeks to develop Super Rugby (in whatever form it may take) into a viable commercial prospect, New Zealand Rugby will be better served by attempting to convey the true nature of the characters that will populate it - and the relationships between them - than trying to mould them into the shape of unpleasant elite athletes of years gone by.
Along this path, they have an opportunity to present a more positive vision of professional sport to their country and the world: one in which a relentless contest on the field can coexist with respect, warmth and affability between competitors, reaffirming the principle that sport matters - but only up to a point, and not so much that athletes have the desire or feel the need to subvert their humanity in service of it.
---
Second fiddle
The schedule for the 2020 Farah Palmer Cup was released last Friday, with games set to kick off on Saturday 22 August - the weekend after Super Rugby Aotearoa concludes. This gives the women's provincial game 3 rounds to itself before the Mitre 10 Cup begins on Friday 11 September.
While its second round will lose some attention because of the North v South game taking place on the evening of Saturday 29 August, this will be partially mitigated by the fact that an exciting young Auckland team will get to face off against Waikato in a curtain-raiser at Eden Park.
There are 13 more fixtures scheduled as double-headers with Mitre 10 Cup games throughout the season, with Taranaki - whose fixtures have been moved from Yarrow Stadium for 2020 as a consequence of safety concerns - the only one of the 13 competing provinces not to stage such an event. (Southland have historically not fielded a side in the FPC.)
In something of an oversight on New Zealand Rugby's part, the official Mitre 10 Cup fixture list does not reciprocate and note that these FPC games are also taking place on the same dates at the same grounds. Additionally, all 13 of the women's fixtures take up the earlier of the 2 matchday slots, reinforcing the notion that the men's games are the main event - and keeping women's rugby on the undercard.
---
Pass of the week
Even with all the drama and intrigue of Round 6 of Super Rugby Aotearoa, some of last weekend's most compelling action was found at a school game in Christchurch. Christ's College prevailed over Christchurch Boys' 28-27 in a back-and-forth encounter that culminated with a replacement prop shrugging off 3 defenders and tearing away to score from 20 metres out.
However, the most widely shared video from the match was an acrobatic finish at the corner flag from Boys' High wing Will Brownie. In the build-up to that try, a young CBHS second row showed one of the reasons why he's so highly regarded in the Crusaders and New Zealand Rugby development systems.
Jamie Hannah made the Crusaders Junior Knights Development Camp squad a year young last July, and followed that up with further representative selections in September - for the New Zealand Barbarians Schools side - and December (when he was selected for the New Zealand team that takes part in the annual Condor Sevens tournament).
By the 16th minute of the game, Hannah - who is now in his final year of school - had already displayed his power in contact on the defensive side of the ball. When Boys' High then got another opportunity to go on the attack inside the Christ's half, the lock (wearing number 4) was able to use this explosiveness to create space for his outside back to capitalise on.
On the phase preceding the score, Hannah comes onto the ball at first receiver with pace before swivelling and playing a deft pull-back to his first five-eighth. Despite getting hit and taken to ground by a Christ's defender as he releases the pass, he is quickly back to his feet and around the corner, clapping to demand the ball from his scrum-half on the next phase.
Having played a pass back to his 10 only seconds earlier, he appears to sense Fletcher Anderson - a loose forward who was also selected for the Crusaders Junior Knights as a Year 12 student last year - sitting off in defence to respect this option again, and accelerates into contact between 2 hesitant tacklers.
He moves the ball to his right arm and - while bracing for the collision - extends it through the tackle, releasing a pass out of the back of his hand to his supporting tighthead prop: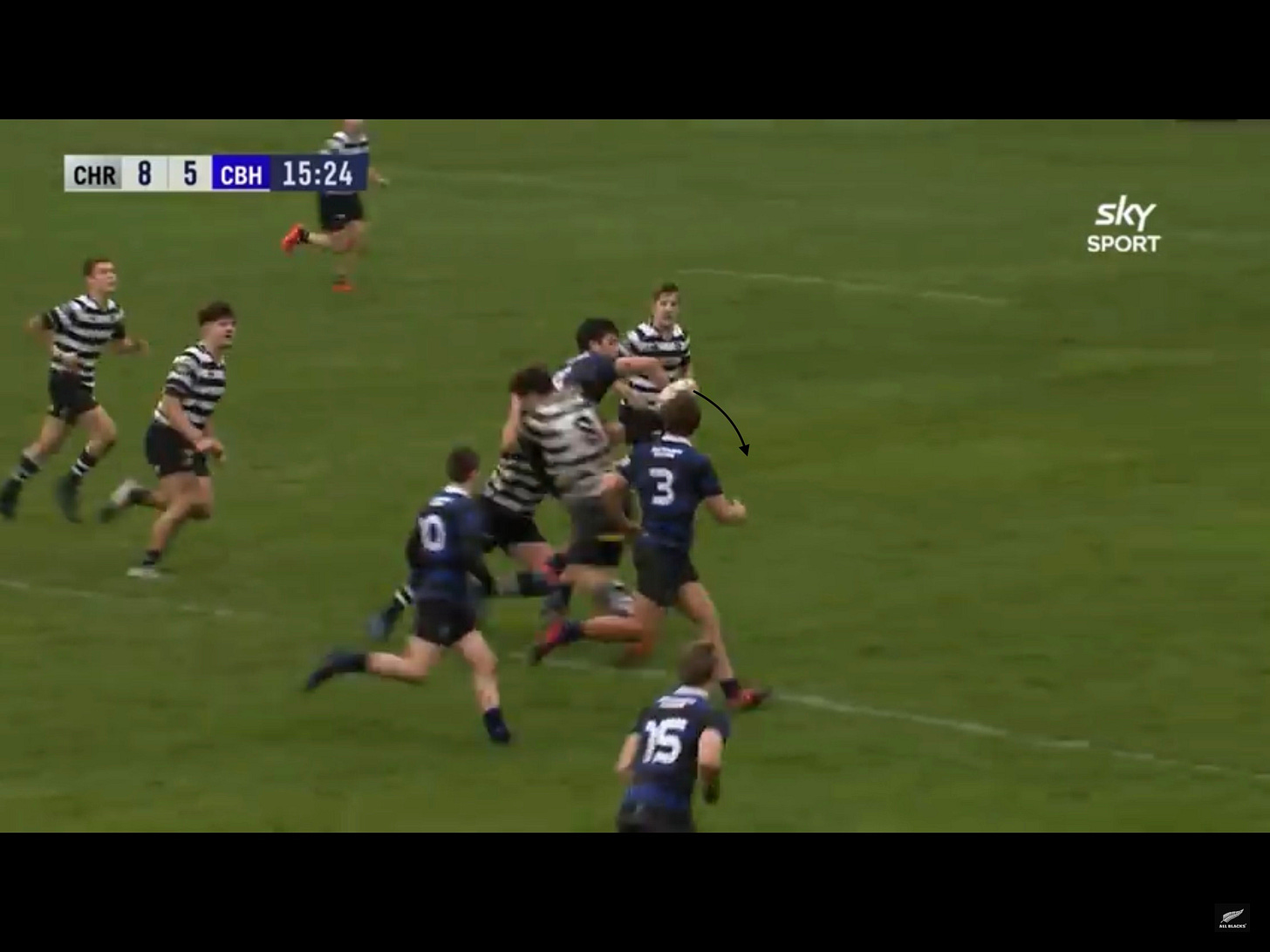 After another offload and a looped pass from the fly-half - who has flooded through on the prop's shoulder - Brownie has an opening to go for the line. The grounding is spectacular, but it is Hannah's physical capability, awareness of space and skill that generates the opportunity.
The development paths of teenage boys and girls - both as athletes and as people - are too fraught with uncertainty to forecast specific players' ascents to the top level with any sort of accuracy and repeatability, but the strengths of Hannah and a number of other young second-row prospects will be encouraging to NZR as they look to shore up what has been a position of relative weakness beneath their totemic starting pair of the last decade.
Also in the Crusaders system below Super Rugby level are Christ's College products Zach Gallagher and Sam Darry (who played for the senior team in preseason in January); together with former St Kentigern College student Mahonri Ngakuru, they both made the national U20 training squad earlier this year. That group also included Taine Plumtree (son of John) and Josh Lord - who have spent parts of 2020 with the Hurricanes and Chiefs respectively - along with Tupou Vaa'i, who has already stepped up to the top level in Super Rugby Aotearoa.
Regardless of which individuals make the jump to the top level, the breadth of talent in this U20 crop beside more established names like Pari Pari Parkinson and those still in school like Hannah and St Kentigern's Allan Craig means that the country's locking stocks should soon be replenished - and that a world-class successor to the combination of Brodie Retallick and Sam Whitelock may even be on the horizon for the All Blacks.
---
Quick hits
---