Head first
Super Rugby Aotearoa: Round 9
Welcome to this week's edition of The Tip-On!
If you want to find out more about Super Rugby Aotearoa's Wellbeing Round which took place at the weekend, you can find Sir Michael Jones speaking about the relationship between rugby, community and mental fitness here.
---
All in-game data per ESPNScrum unless otherwise stated.
---
Hand and foot
The Crusaders secured their 4th consecutive championship - albeit in rather different circumstances to the last 3 - with a 32-22 win over the Highlanders on Sunday, and it is the utterly dominant Christchurch franchise whose style of play has often been perceived as the closest imitation of test rugby in the domestic game in New Zealand.
As top analyst Nick Bishop noted in a recent piece for The Roar:
"Traditionally they are the most forward-oriented of any Kiwi Super Rugby franchise, and they play a game somewhere between the requirements of Super Rugby and the international version of the game."
In contrast, the Blues - the region's long-time rivals in Auckland, but a team who haven't registered a playoff appearance in nearly a decade - have been rather hapless tactically in recent years, with a lack of focus on their kicking game one of their most acute shortcomings.
However, Leon MacDonald's side have righted course to become the Crusaders' closest challengers for the title this season, and both franchises have shown signs of strategic evolution in 2020.
Before the enforced postponement of the cross-hemisphere Super Rugby competition earlier this year, the Crusaders - shorn of a number of key players - had already begun to open up their game with ball in hand.
Meanwhile, on the North Island, the Blues have become the most regular kicking team in the country since the resumption of Super Rugby Aotearoa: they have done so once every 4.0 carries during the competition - much more frequently than their Christchurch rivals, who have put boot to ball only once every 6.3 carries.
The Blues' tactical shift was clearest during their Round 2 win over the Chiefs in the Hamilton rain - when they outkicked their opponents by 1022m to 670m (per FOX Sports), and exited their own territory far more proficiently than Warren Gatland's side were able to - but it has been a consistent pattern across all 7 of their games so far.
Throughout Super Rugby Aotearoa, their approach to progressing the ball upfield has been a clear outlier among the 5 competing clubs':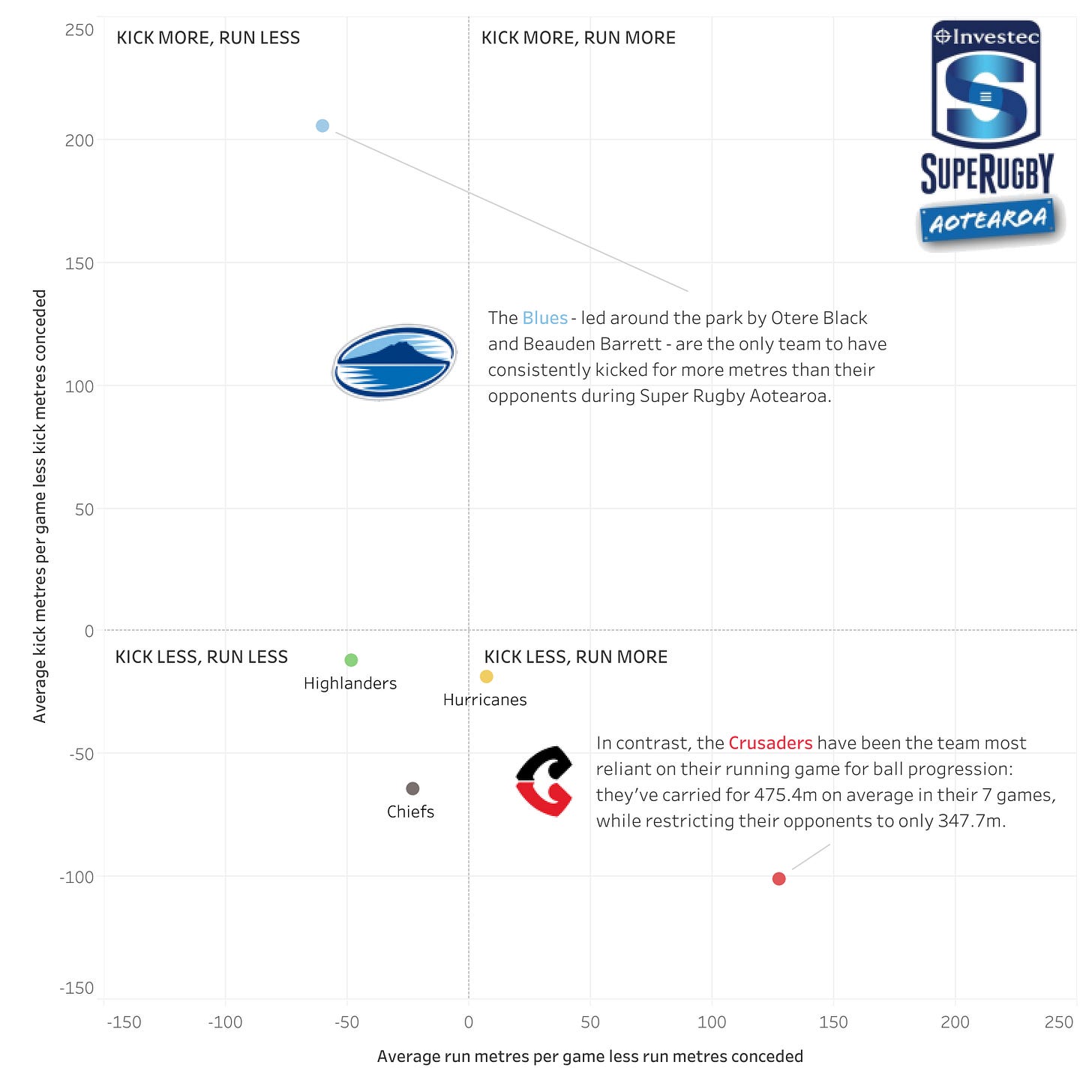 As well as kicking the ball less frequently than the average team in Super Rugby Aotearoa, the Crusaders also employ a variety of types of kick more regularly.
Their average distance per kick in the competition (25.5m, per FOX) has been the lowest of all teams by 1.8m, and 3m lower than the competition average; this indicates that they have focused more than other sides on using crossfield kicks and shorter contestables.
Often - as was the case on their first possession of Sunday's game against the Highlanders - they have looked to play out from their own half of the field with ball in hand, and as a consequence of this intent they have made the highest proportion (54.4%) of their matches' carries of any team.
They have also been the most efficient at progressing the ball, averaging 3.7m per carry - compared to a competition average of 3.4m - and a clean break rate of 10.2% (average: 8.6%). This success they've had advancing the ball with their running game is a direct result of the gameplan they implement from set-piece platforms and in phase attack, focusing on - as Tom Savage put it in a piece for Three Red Kings this week - "maximising [the] touches" of a back three that arguably "is one of the best in the sport right now".
Will Jordan, George Bridge and Sevu Reece have all had excellent campaigns in the backfield, and the Crusaders have created a surfeit of favourable opportunities for them to exploit. No team's starting outside backs have made a higher proportion of their teams' carries (25.3%) or run metres (44.5%).
Richie Mo'unga is Scott Robertson's other elite strike runner, and the team have succeeded in getting him on the ball regularly too: no other team's starting 10 has made a higher proportion of their team's carries than Mo'unga's 8.4% of the Crusaders'. (Only the Highlanders derived a higher proportion of their run metres from the position, contributing 13.6% of their total compared to Mo'unga's 11.4%.)
While the Blues outside backs have also been devastating when they've had the chance, MacDonald has placed much more emphasis on establishing the narrow carrying game of his powerful tight forwards in phase play. Their starting props and locks have combined to make 21.4% of the team's carries in Super Rugby Aotearoa matches; the Crusaders are the second-ranked team by this measure, but are far behind the Blues at only 17.2%.
The Auckland franchise weren't able to close out the second-half lead they held over the Crusaders in Round 5 in Christchurch, but the changes MacDonald has implemented in his second year in charge have enabled them to begin playing consistent, repeatable, winning rugby - just as his former team have started to loosen up. If Sunday's game at Eden Park does go ahead, the battle between 2 contrasting tactical approaches will be a fascinating one.
---
Shuffle
In a piece for Stuff earlier this week, Paul Cully posited that - despite their fairly comfortable Super Rugby Aotearoa competition victory - "[t]here is a temptation to think that…the Crusaders have come back to the pack a little".
This is an editorial assertion which is incredibly straightforward to test with data: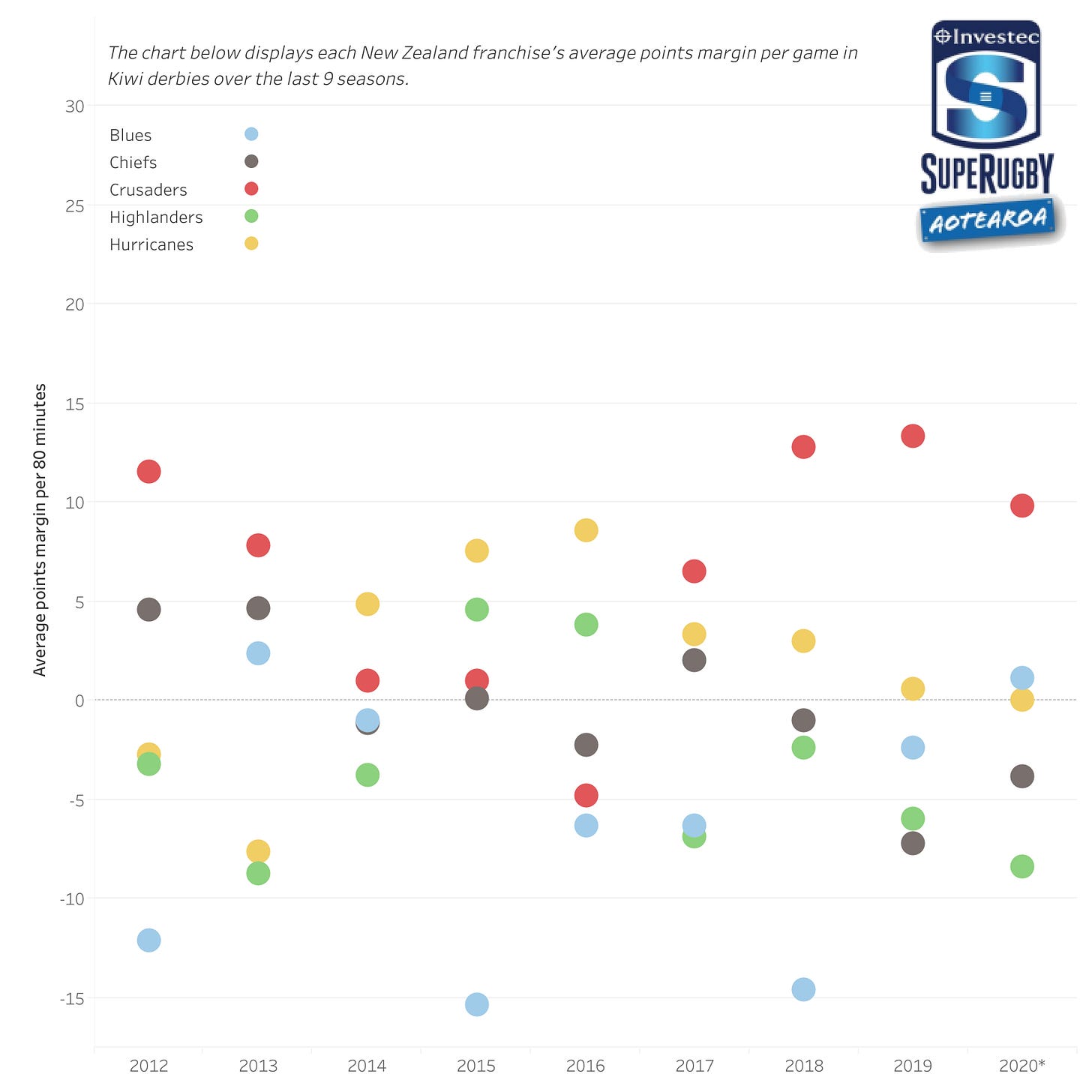 Comparing their average winning margin (+9.8) in matches against other Kiwi franchises - across both Super Rugby and Super Rugby Aotearoa - this year to their derby performance in last year's title-winning season (+13.3 points per game), it's clear that the Crusaders have taken a slight step backward.
Nonetheless, their overall dominance of the last decade or so is evident. They have been the best performing team in NZ derbies in 6 of the last 9 seasons; the Hurricanes are the only other team to have had that honour, during a 3-year stretch which culminated in their 2016 title.
However, this year broke a streak of 6 in which the Wellington franchise posted a positive overall record in matches against other Kiwi sides. In contrast, the Blues - who markedly improved in Leon MacDonald's first season by this measure - vaulted themselves to a positive margin for the first time since 2013 in his second. (Having Beauden Barrett on your team may help you outscore your opponents in rugby matches.)
There is also some solace for Warren Gatland in the chart: despite their 0-0-8 record in Super Rugby Aotearoa, the Chiefs actually improved their average performance against their Kiwi counterparts (-3.8 points per game) relative to Colin Cooper's last year in charge (-7.3).
---
With us or against us
Last week, the Blues' signing of Christ's College product Sam Darry, Mitch Hunt's return to Christchurch with the Highlanders and a RugbyPass interview with former Canterbury player Jordie Barrett cumulatively provided an interesting insight into the team environment that Scott Robertson has cultivated at the Crusaders.
Despite Robertson's best efforts, Barrett - as he recounted to Tom Vinicombe - chose to eschew the franchise's offer of a Super Rugby contract at the end of 2016 in order to move to Wellington to play with Beauden. While the incoming Crusaders head coach was disappointed, he was evidently at peace with the decision Jordie made:
"He grew up a Hurricane, he wants to play outside his brother and I understand and respect his decision. I couldn't have done anything more on a personal note or the Crusaders. It was a real tough decision for him, it was an emotional decision for him. I respect him for all his reasons and why he's made that."
His choice of language is striking. In his insistence that Barrett "grew up a Hurricane", his belief that a player's allegiance to and alignment with their local team is something with deeper roots than a path through a professional development system is clear. (By the time Jordie was finishing up at Francis Douglas Memorial College in Taranaki, the province had aligned with the Chiefs - but his bonds with the Hurricanes were already formed.)
Following a similar track, Hunt grew up in Crusaders country in Nelson but moved away for university. After making his NPC debut for Auckland in 2015, he was brought back to Tasman the following season and rewarded with a full Super Rugby contract. Tasman chief executive Tony Lewis was rapt with the signing: "he's a local boy and we're very keen on growing our local boys".
That sense of belonging and identity was likely a key motivating factor in Hunt's decision to stay at the Crusaders for 4 seasons and pay his dues behind emerging star Richie Mo'unga. (The All Black made more than 5 starts for every 1 made by Hunt during this period, and played more than 3 minutes for every 1 played by his rival for the 10 shirt.)
This is the vital context to Robertson's laudatory comments ahead of the Highlanders' visit to Christchurch last week:
"We love Hunty. It would have been awesome to still have him in red and black, but we're really proud of what he's done by taking the opportunities down there."
The fly-half invested time, effort and emotion in the Crusaders' cause, and was repaid for that with nothing but goodwill on his departure.
The head coach's attitude to Darry's departure couldn't have been more different. A promising young second row who featured for the Crusaders in preseason earlier this year, his reasons for moving north to Auckland were mature and laudable: he stated that he "felt it was time to learn more about [himself] and as a rugby player standing on [his] own in the real world".
Robertson made it clear that he saw things in a different light, stating that - with the Crusaders making a viable counteroffer - Darry simply "wasn't willing to stay here and compete". In the franchise's eyes, it seems that the HSOB lock (who has been in their system since 2017) had a debt to repay.
Considering these separate comments by Robertson together, the intended signalling effect to young players in the region is obvious. If you want to be a part of the Crusaders project, you have to be willing to commit your time and effort to it - even to the detriment of your own short-term development, by spurning attractive offers from elsewhere if they come along. In return, you will be rewarded with success on the field and a sense of purpose, identity and belonging off the field that is hard to match elsewhere.
While it is difficult to argue with those on-field triumphs and the positive testimony of those in the team environment, you do wonder if such an uncompromisingly negative response by one of the most prominent figures in Kiwi rugby to a 20-year-old moving cities for work is really necessary.
Darry is a self-professed "Canterbury boy" and spoke of the resultant "strong pull to stay" with the franchise, so the decision he made was clearly a nuanced and difficult one. Moreover, it would be difficult to reconcile any possible behind-the-scenes animosity or behavioural issues with his new boss' description of him as "smart and driven", "extremely hard-working" and "already known for his leadership qualities".
There is a clear short-term benefit to Robertson circling the wagons in the media, and developing feelings of community and local affinity within an organisation is undoubtedly important. Nonetheless, reacting in such a way makes it more difficult for the sport as a whole to conduct mature conversations about the professional choices made by young athletes - and about how an individual's sense of place and belonging can impact such a choice in a variety of complex ways.
---
Run down
Like Josh McKay sneaking up on Bryn Hall with the try line beckoning, confirmed community transmission of COVID-19 resurfaced in New Zealand this week just as the country was about to complete the final round of a Super Rugby Aotearoa competition that has been more successful - both on and off the field - than the national union ever could have hoped.
In light of the government moving Auckland to Level 3 lockdown and the rest of the country to Level 2 until midnight on Friday, the question of whether the competition will be able to be fully completed remains open. If things stay as they are into the weekend, the Highlanders will be able to complete their game against the Hurricanes in Dunedin without crowds in attendance - but the Blues would have no way of completing their finale against the Crusaders, with the Christchurch franchise unable to travel into Auckland.
After receiving criticism for their lack of communication around planning for the women's game during the country's first lockdown earlier this year, it is positive that NZR are refusing to push games back a weekend if they are not able to be played. The Farah Palmer Cup is scheduled to begin on Saturday 22 August in a slot in the calendar currently uncontested by the men's game, and such a contingency plan would deprive what is shaping up to be a superb domestic competition of some of the nation's deserved attention.
---
Pass of the week
Learning to play with control has been one of the challenges of Jordie Barrett's early career.
The 23-year-old's time in the professional game has already been immensely successful - and his attributes have been obvious from the very start of it - but he noted himself at last year's World Cup that his play would benefit from "slowing down, taking a step back and seeing it from a different side some of the time".
He has been exceptional at 15 for the Hurricanes in Super Rugby Aotearoa, and in the build-up to Dane Coles' try early in the second half last Saturday he will have been pleased with the patient approach he took on the ball in order to create a clean break for Vince Aso.
From a ruck on halfway in the middle of the field, Barrett is stationed behind a pod consisting of Reed Prinsep, Ardie Savea and Scott Scrafton. TJ Perenara hits Savea - the man in the middle - and the back-row forward swivels to find his fullback with a pass behind the screen of Scrafton.
The Chiefs have reloaded poorly from the previous ruck, leaving 5 men on their left-hand side opposite only 2 Hurricanes attackers. Du'Plessis Kirifi - holding width on the Hurricanes' left touchline - notices the consequent mismatch on his side of the breakdown immediately, and has his hand raised asking for the ball to be sent his way even before Savea completes his pull-back to Barrett.
Kirifi is accompanied in the 15m channel by Wes Goosen and Dane Coles, and Alex Nankivell on the Chiefs' right edge is cognisant of the threat posed by these 3 excellent attacking players. While his eyes never leave Barrett on the inside, the alignment of his shoulders, hips and feet toward the touchline betrays his true focus.
He is never in a possession to deal with Aso on Goosen's inside, and Barrett - after fixing the attention of Luke Jacobson, the defender to Nankivell's left, by straightening his run - reads these cues to perfection. He dummies to ensure Jacobson is committed to the tackle and out of the game, before leaving the ball in the gap he has created for Aso just before taking contact from the flanker: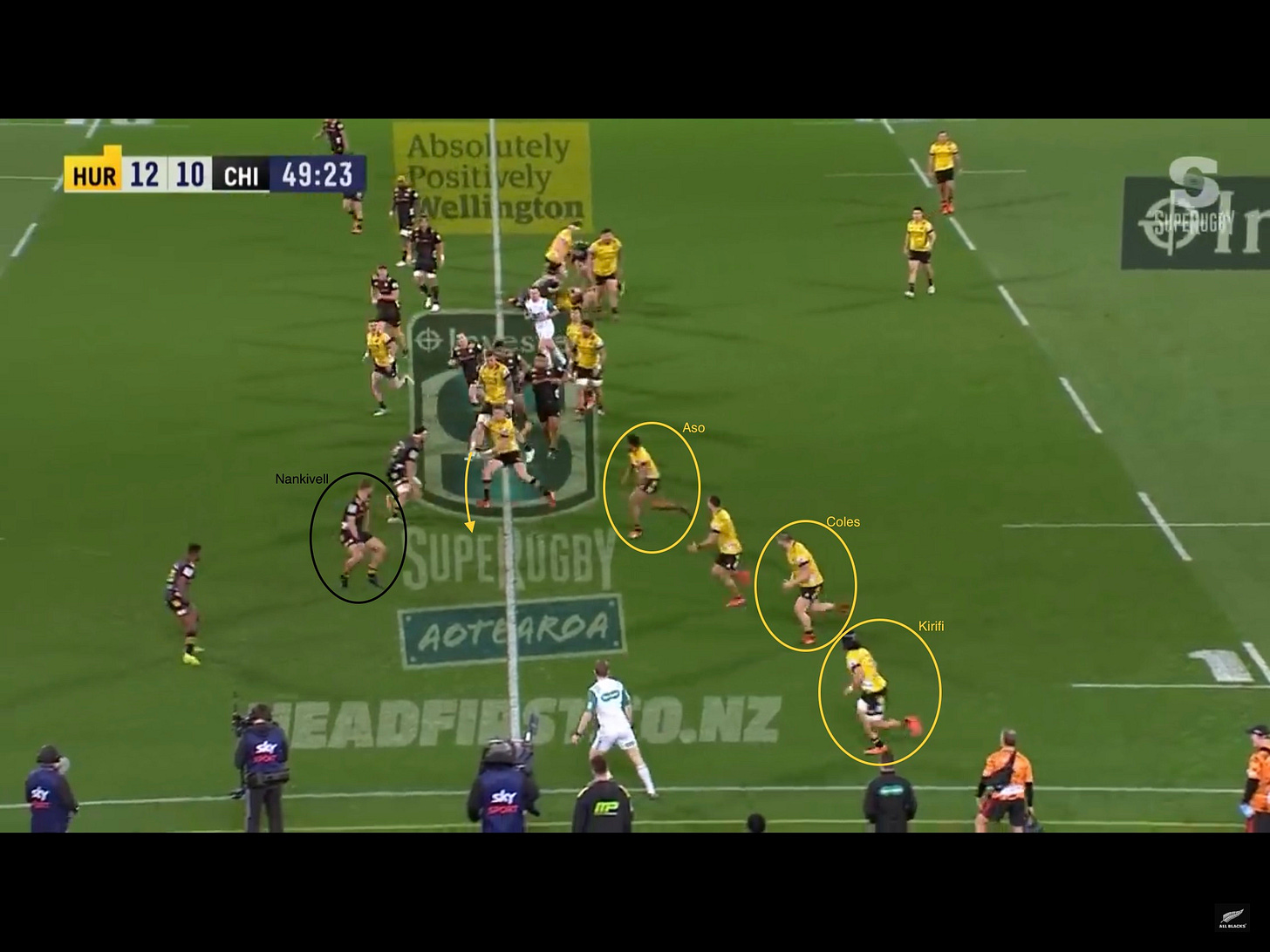 With Nankivell's energy towards the sideline, he's unable to scramble back and stop the Hurricanes midfielder from slicing through.
Aso finds Perenara trailing on the inside, and after a quick ruck inside the 22 the ball is released by Prinsep (filling in at scrum-half) and Jackson Garden-Bachop to Coles - still holding width with Kirifi, and communicating where the space is to his teammates - who crashes over from close range.
---
Quick hits