New wheels
Super Rugby Aotearoa: Round 8
Welcome to this week's edition of The Tip-On!
If you want to see an example of the underrated ball-handling skills which Julian Savea - back with the Hurricanes and "keen to stay in New Zealand" in the long term - showed during his time on the wing for the All Blacks, you can find a clip of his assist to Luke Romano against Wales in 2012 here.
---
All in-game data per ESPNScrum unless otherwise stated.
---
In the zone
"I think they are best team in the competition inside the 22m. They get there and they use that power game. They executed their power game well and that was the difference."
After Sunday's loss to the Blues, Highlanders head coach Aaron Mauger was full of admiration for the way that Leon MacDonald's side attack deep in opposition territory.
As Charlie Morgan noted in his piece on the Chiefs for The Telegraph this week, the Auckland franchise have been extremely efficient in this area of the field; their average of 3 points scored per 22 entry in Super Rugby Aotearoa is bettered only by the Highlanders, who have managed a mark of 3.5.
Over the last 2 rounds of the competition, the Blues have actually become less reliant on scoring from this area of the field: they have scored 4 tries from phases beginning outside the 22 in 160 minutes against the Chiefs and Highlanders, equal to the number that they managed across their first 400 minutes in the competition. (Their rate of red-zone scoring has remained consistent: they averaged 2.1 tries per game from inside the 22 in their first 5 games, and have scored 2 a game over the last 2 weeks.)
Nonetheless, looking at data from across the entire competition, the importance of progressing the ball into this area of the field is clear. Almost 70% of tries in Super Rugby Aotearoa have been scored from this part of the pitch:
It is also interesting to note that teams have not simply resorted to hammering the door down with their forwards once they have brought the ball into the 22; of those 44 scores from rucks established in this zone, 21 have been scored by midfielders or outside backs and 19 have involved at least 2 completed passes on the scoring phase.
Despite having one of the most powerful packs in the competition, this trend has held for the Blues too: 4 of their 10 scores from rucks in the 22 have seen 2 or more passes completed, and 5 of the 10 have been scored by their midfielders and outside backs. (Rieko Ioane, Caleb Clarke and Mark Telea are all excellent finishers close to the line.)
For their 4th try against the Highlanders last weekend, they did call upon one of their most impressive men up front to crash the ball over - but they were able to get him the ball in a favourable position because of a subtle bit of play close to the line. Akira Ioane - a pick-and-go threat in his own right - drew Marino Mikaele-Tu'u's focus with a step towards the defender, before flipping the ball flat to Ofa Tu'ungafasi with Kurt Eklund latching. The decision made by Mikaele-Tu'u to commit to Ioane meant that his teammate Pari Pari Parkinson was outmatched in the collision, and Tu'ungafasi was able to drive over the line and dot down.
This is not a new tactic - the All Blacks used it back in 2017 against South Africa, with Tu'ungafasi again the beneficiary - but it has resurfaced with greater frequency in recent weeks; the Blues have now scored from a variation on it twice in their last 2 games. (Alex Hodgman was the passer from the base for Patrick Tuipulotu's try against the Chiefs a week earlier.)
Scores like these exemplify how Kiwi teams benefit from the execution of a range of different skills by their players - regardless of the numbers on their backs - when they are on the ball in order to present multiple threats which defences have to account for. Try involvements by players across the park have been a consistent feature of Super Rugby Aotearoa: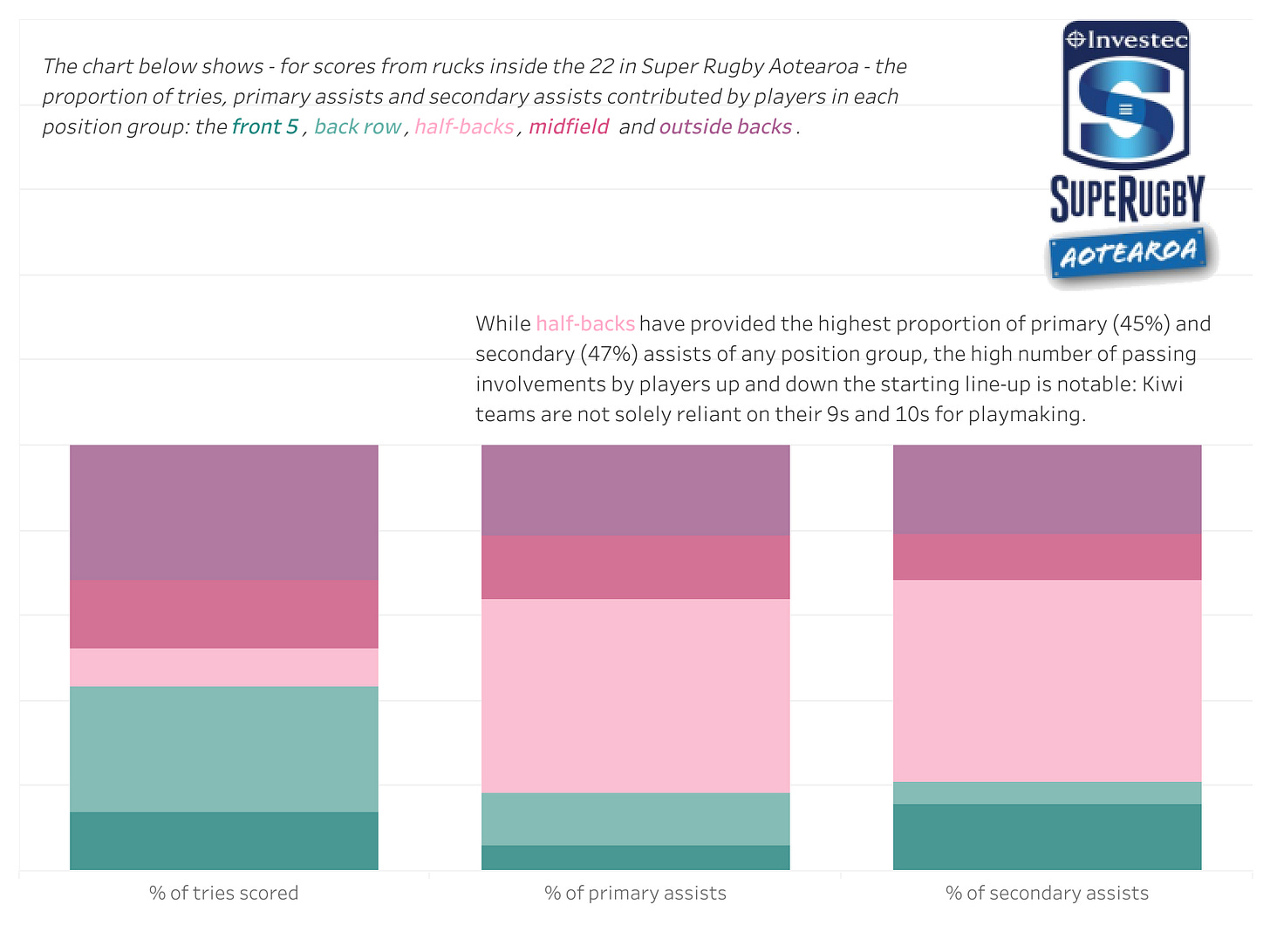 The Blues will have been disappointed with how their discipline has restricted their red-zone opportunities over the last 2 games - they have been on the wrong end of a 28-14 penalty count in total, compared to a 60-42 split across their first 5 matches - but MacDonald's side have still been clinical in taking their chances inside the 22.
The methods they have used to do so - focusing on moving the ball to their dangerous outside backs in space, and creating mismatches with clever touches from their forwards - are consistent with the ways in which all of the teams in Super Rugby Aotearoa have varied their attacking approach and drawn on the skills of players from 1 to 15 in order to generate returns in the most valuable zone on the field.
---
RPO
As Eoin Toolan noted during Saturday's game and discussed with Murray Kinsella on The42 Rugby Weekly Extra on Monday, Crusaders fullback Will Jordan stepped into first receiver regularly during their win over the Chiefs in Hamilton.
In fact, last weekend's game was the first time he'd recorded as many passes as carries in a start at fullback in Super Rugby. He made 16 of each, compared to 105 carries and only 48 passes across the previous 8 matches he has played in the 15 jersey.
After a picture of Jordan as a distributor was imprinted in the mind of the Chiefs defence early in the game, the Super Rugby champions turned this to their advantage to break away in the second half: immediately prior to Sevu Reece's try which took them 6 points clear, it was Jordan who made a half-break on Aaron Cruden's inside shoulder after the fly-half slid off to respect the passing option on the attacker's outside.
---
Legacy omissions
The death of former All Black lock Andy Haden last week was marked by a funeral at Eden Park on Monday.
The service was attended by a number of prominent figures in the game in New Zealand, including Highlanders second row Jack Whetton - a day after he played against the Blues with 'A.H.' written on his wristband. (His father Gary and uncle Alan began their careers for Auckland and the All Blacks towards the end of Haden's.)
New Zealand Rugby's official press release was laudatory, with Chief Executive Mark Robinson noting his "massive" contribution to rugby and President Bill Osborne talking about "how he advocated for players' rights both during and after his playing career".
In doing so, his official profile on allblacks.com notes that:
"He polarised opinions and does to this day. Some of his comments have upset people, others have made them bloody angry. But he's not repentant, never has been and never will be."
What were some of those comments which are presented in the canon of Kiwi rugby as "polarising" and for which his unrepentant attitude is not called into question? Referring to players of colour as "darkies", and engaging in speculative victim-blaming when discussing rape allegations made against an All Black - comments for which he was removed from his role as an Ambassador for the men's World Cup in 2011.
A thorough reckoning with these aspects of his life in rugby has been absent from media coverage in the aftermath of his death; journalists' preferences to leave "his more controversial comments aside" - or treat them as an example of Haden being "unafraid to speak his mind" - are clear.
This is not to attempt to deny those close to Haden their legitimate grief, but - given the capacity in which he was acting at the time they took place - no account of his life in rugby is complete without a discussion of these stories.
Moreover, the governing union's refusal to acknowledge the offensive nature of Haden's actions in their commemoration of him - presenting them instead as evidence of his virtues - is an example of the way in which established sporting organisations continue to privilege the interests and reputations of a swathe of their members and contributors above all others. Such an oversight sends a clear message both to women and to people of colour involved in the game in any capacity that using racist slurs and sexist tropes is not incompatible with a legacy as "one of the true greats of our game".
For as long as clearly offensive words and actions are packaged up and presented as anything but, New Zealand Rugby cannot truly claim to be doing everything in their power to create an inclusive and transparent environment for players, administrators and fans of all genders and backgrounds.
---
Can't see, can't be
One of the most fundamental ways in which a sports fan can positively express their allegiance to and identification with a team is by wearing their shirt. But, as Louise Lawless noted in a piece for the Irish Times last week, women's teams are often not given the opportunity by their organisations to consolidate and grow their followings in this way.
As Lawless puts it, from the perspective of the Ireland women's team:
"[u]ntil the players look out to the stands at Donnybrook, Murrayfield or Twickenham and see Aon jerseys, until potential sponsors can see it as a worthy investment, and until fans can buy a jersey without it becoming a question of the worthiness of women's sport, the Irish women's rugby team will remain a "Team of Them" and the men the 'Team of Us'."
In New Zealand, it's possible to buy both a Black Ferns and a Black Ferns Sevens jersey from the All Blacks Shop; positively, both are also made available in a unisex fit so that "all fans can show their Black Ferns Pride".
However, there is only a single other bit of Black Ferns or Black Ferns Sevens branded merchandise for sale on the website. (3 more items are marketed specifically as Black Ferns merchandise, but on closer inspection actually appear to be marked 'All Blacks Official Licensed Product'.)
In contrast, there are 46 items of Adidas gear replete with the All Blacks logo currently on offer; there is much room for the national governing body to do better on this front. While counter-arguments on this topic often rely on the rather hazy concept of commercial viability, it's important to remember that New Zealand Rugby is a not-for-profit, Public Benefit Entity "whose primary objective is to provide goods or services for community or social benefit". (Moreover, as Lawless exemplifies, the demand is often out there if you look for it.)
Exposure and marketing are key to growth, and investing resources in order to scale up the commercial operations of the Black Ferns and Black Ferns Sevens teams is another way in which NZR can continue to cement the perceived legitimacy of its top athletes on the women's side and draw more and more young people into the sport.
---
Pass of the week
One of the ironies of the debate about the All Blacks 10 jersey that has arisen since Richie Mo'unga emerged as a truly world-class fly-half in 2018 is that Beauden Barrett has arguably never been a more rounded first five: over the same period, he has considerably strengthened a number of core technical aspects of his game.
At the start of the last World Cup cycle, the Hurricanes' phase attack was limited by Barrett's alignment and pass execution at first receiver; he often stood deep and passed to pods on his outside with his shoulders turned towards the touchline. However, since 2016 he has clearly worked hard on directing his energy forward through the ball on release - a technical tweak which allows him to put the pass out in front of his target more consistently, and also has the added benefit of making his running game more of a regular threat.
He showed signs of this improvement during the test series against France in 2018, and in his last competitive international start at fly-half (against Argentina in last year's Rugby Championship) put together one of his most balanced performances with ball in hand for the All Blacks. Despite this development, Mo'unga's play was good enough to take the 10 shirt for the World Cup in Japan, and Barrett was moved back to fullback.
This was where he started the year for the Blues in Super Rugby Aotearoa, and - as RugbyPass analyst Ben Smith noted in a piece early in the competition - his passing ability was critical to the franchise's ability to get the ball quickly and accurately to space in transition. (In each of the examples Smith uses, Barrett's more square alignment after release is clear.)
However, since moving forward to 10 over the last 2 rounds he has come into his own and more clearly displayed those improved attacking skills. In his first start at the position against the Chiefs, his ability to challenge the line as a running threat was to the fore, but last weekend it was his ability to find space in the 15m channels that was crucial to the Blues' victory.
In the build-up to Finlay Christie's first try in the first half, Barrett - sweeping into the front line after a turnover from his position in the backfield in the Blues' 13-2 set-up - dummies a pass to his left before identifying the crossfield kick as the best option to move the ball to Caleb Clarke on the left wing.
Christie's second later in the game then followed a similar sequence: a turnover in one 15m channel, and a break on the opposite side of the field leading to a score. This time - after a well-orchestrated chase regained possession at the first ruck after a contestable kick, as South African coach Katleho Lynch broke down here - Barrett first looks to his crossfield kick option, before noting that Clarke has come infield.
With Tony Lamborn as the widest man in the Blues attacking line and no defenders directly in front of him, the fly-half - after feinting to drop the ball onto his boot - fizzes a delightful ball over Josh McKay on the Highlanders' edge, leading his flanker into the space he has identified: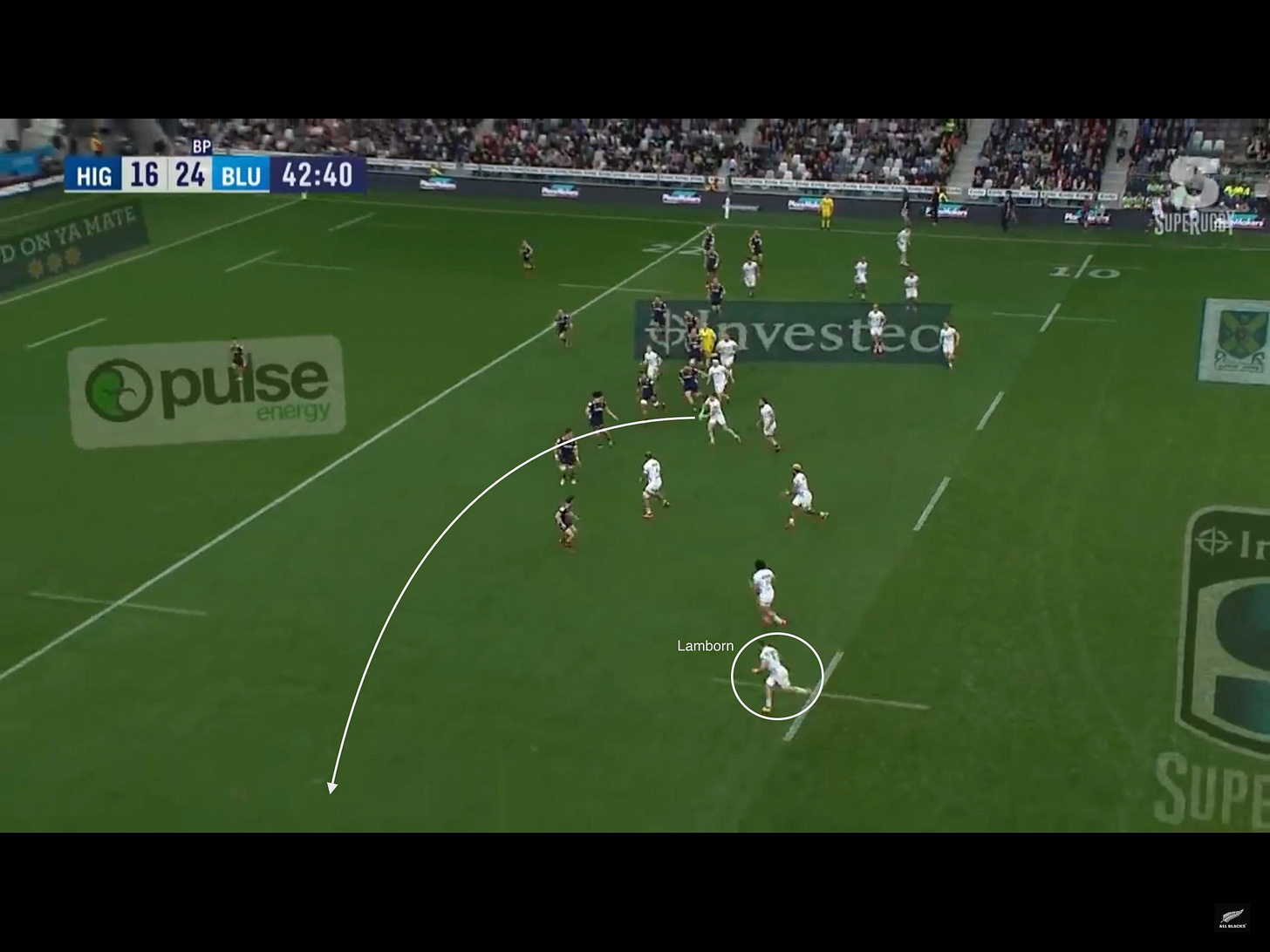 Superb interplay between Lamborn, Clarke and Christie gets the scrum-half across the line under considerable pressure from scrambling defenders, but it is Barrett's vision to spot the space that kickstarts the sequence - and his years of hard work on his technique that makes this pass look effortless.
---
Quick hits
The Black Ferns held another training camp this week at Ardmore Marist in the Counties Manukau region - and their squad of specialist 15-a-side players was joined by a number of athletes from the Black Ferns Sevens after it was confirmed that there would be no World Rugby Sevens Series events taking place for the remainder of 2020. From Glenn Moore's World-Cup-winning team in 2017, Sarah Hirini, Kelly Brazier, Stacey Fluhler and Theresa Fitzpatrick were all in attendance; they were joined by Dhys Faleafaga, Alena Saili, Tyla Nathan-Wong and Ruby Tui, who was coming off a Coleman Shield victory for Ponsonby alongside Fitzpatrick at the weekend. However, how much of a role these players are able to play in the Ferns' title defence on home soil next year will depend on what happens in Tokyo: while Moore has made clear that the women's rugby programme is "committed to winning pinnacle events", he has also acknowledged the risks to players' welfare arising from playing too much and the potential long-term benefits of "exposing more players to the highest level" and growing their "base" of elite athletes.

Fiji head coach Vern Cotter has announced his extended coaching team, and it has a heavy Kiwi influence: alongside Richie Gray - who he's worked with at Scotland and Montpellier - he has recruited Crusaders forward coach Jason Ryan, former Waratahs head coach Daryl Gibson and retired referee Glen Jackson. Cotter is also hoping to persuade a number of current Super Rugby Aotearoa players to represent the Melanesian nation - specifically mentioning Hoskins Sotutu, Alex Hodgman, Pita Gus Sowakula and George Bower to the media - but is hoping that a Fijian franchise will be admitted into Super Rugby in the near future:

"It gives the opportunity to bring payers back and have them contracted to Fiji and develop the rugby within the Pacific Islands. It would provide a professional environment where players can be looked after on a day in, day out basis to prepare for one of the best competitions in the world. If we have a team in the Super Rugby competition imagine the quality of preparation those guys would have."

Liam Napier interviewed Akira Ioane for the NZ Herald at the weekend, with the Blues loose forward again discussing his mental health at length - and the way in which he hopes to mentor the franchise's up-and-coming players who are getting used to the media spotlight:

"I don't really worry about what they say now because they're at home and we're out here grinding every day. Other than that, I'm trying to make sure some of the boys in here don't do what I did; don't get caught up in those comments."

This piece by Rory Smith of The New York Times is a nice look at second-generation professional footballers across Europe. (Sky Sport also put together a lovely feature on Eroni and Caleb Clarke - a Blues father-son combination - at the weekend.)

Finally, take a look at the powerful haka performed by the Chiefs squad - along with franchise legend Liam Messam - for Aaron Cruden after his 100th cap for the franchise on Saturday. Former Chiefs and All Blacks coach Wayne Smith also took part in the post-match presentation.
---