Ruling the roost
Super Rugby Aotearoa: Round 10
Welcome to this week's edition of The Tip-On!
If you want to watch Tukapa - who recently made it into the NZ Herald's "First XV of classic Kiwi clubs", and currently feature professional prospects Lukas Halls (13) and Jacob Ratumaitavuki-Kneepkens (15) in their backline - beating Inglewood in the Taranaki premier men's final on Saturday, you can find highlights here.
---
All in-game data per ESPNScrum unless otherwise stated.
---
Hollandse school
The Hurricanes' season came to a disappointing end at a quiet Forsyth Barr Stadium on Saturday.
Without scrum-half TJ Perenara in their starting lineup - awaiting the birth of his first child at home in Wellington, the All Black made an appearance off the bench for Norths instead - they were outscored 38-21 by the Highlanders. This heavy defeat led to the Wellington franchise finishing the year with an overall negative record against their fellow Kiwi teams for the first time since 2013.
Nonetheless, given how they started the season (with an abject 27-0 defeat to the Stormers in Cape Town) and accounting for the loss of both Beauden Barrett and John Plumtree, an average points margin of -1.7 per 80 minutes (down from +0.6 in 2019) was a solid effort in Jason Holland's first year as head coach.
While they don't quite have the Blues' strong fundamentals as they head into 2021, they were able to put together impressive stretches of play in Super Rugby Aotearoa; over the course of their 5-game winning streak between Round 4 and Round 9 of the competition - which took in away trips to Hamilton and Christchurch - their average margin was +6.0 points per game.
That win over the Crusaders was an obvious narrative high point, coming as it did at a venue where they had lost their last 5 games by an average scoreline of 28.4-17.0. However, caution needs to be taken in analysing that victory; they were outscored 4 tries to 3 by Scott Robertson's side, and it was only Jordie Barrett's boot that swung the game their way.
The Hurricanes did take their try-scoring chances clinically, but were unable to control possession in their customary manner: they made only 88 carries to the Crusaders' 134, compared to an average split of 129.1 carries made and 114.8 allowed across their other 9 NZ derbies in 2020.
What that win - and those tries - did show were the strides their phase attack has made in Holland's first season. With subtle intermingling of forwards and backs and clever cycling of backline players between positions, they were able to move the ball swiftly and accurately from side to side and create mismatches for their mobile forwards, powerful midfielders and speedy outside backs in the 15m channels.
Their average number of completed passes per carry (against other Kiwi franchises) rose from 1.23 in 2019 - a level at which it had remained relatively consistent for 4 seasons - to 1.28 in 2020, with a positive impact on one of the key markers of a team's attacking effectiveness: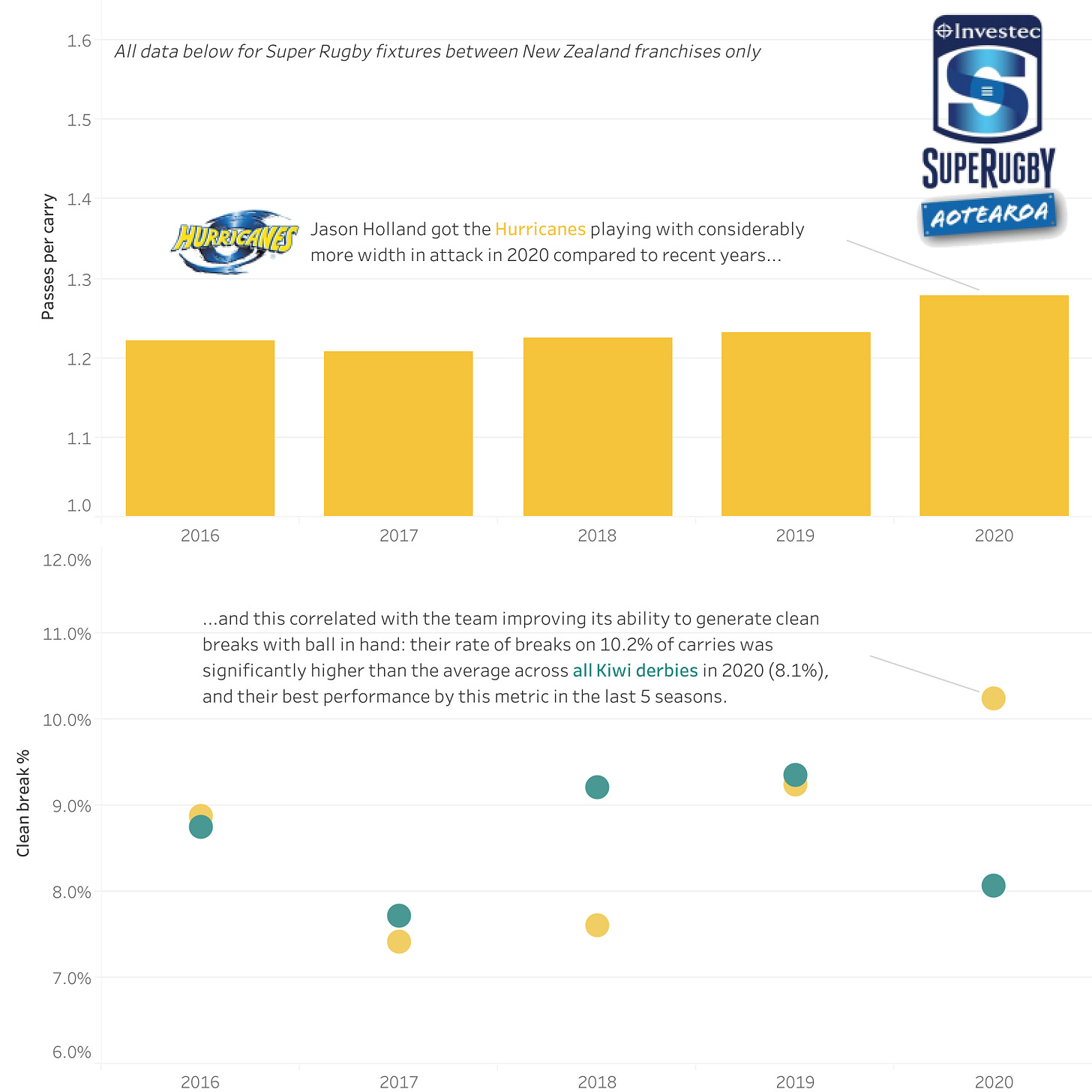 This will be an extremely promising sign as they begin planning for the 2021 season. The team's attack from set-piece platforms and ability to strike in transition were both already strong, and if they are able to sustain both of these aspects along with their improved phase play they will be a handful to defend next year.
However, tactical kicking will be one facet of the game in which they will look for considerable improvement. While they effectively moved the ball upfield with the boot in that win over the Crusaders - outgaining them by 715 kick metres to 401m, per FOX Sports - concerted application of this strategy was largely absent from their other matches: they gained an average of 474.7m per game with kicks across their other 7 fixtures in Super Rugby Aotearoa, but conceded 549.6m.
Last weekend's game against the Highlanders had the feel of an end-of-season shootout, but the home side were more willing than the Hurricanes to resort to their kicking game for ball progression; the away team kicked in open play only once every 11.4 carries to the Highlanders' rate of once every 7.7, and were consequently outgained by 420 kick metres to 342m.
Moving forward, this will undoubtedly be one of the things that Holland will want his team "to learn to do…for long periods of the game". Doing so would give the Hurricanes a nice balance to their tactical approach, and improve their chances of consistently challenging the Blues and Crusaders at the top of the domestic game in New Zealand next year.
---
Pair of 10s
Under the roof in Dunedin, both teams' starting fullbacks - Mitchell Hunt of the Highlanders, and the Hurricanes' Jordie Barrett - completed as many passes in the game as carries. (Hunt had 11 of each, and Barrett had 15 - along with 3 offloads.)
The final game of Super Rugby Aotearoa was further confirmation that the double-playmaker set-up - an important factor in the Hurricanes' improved ability to play to width this year - is resurgent in New Zealand: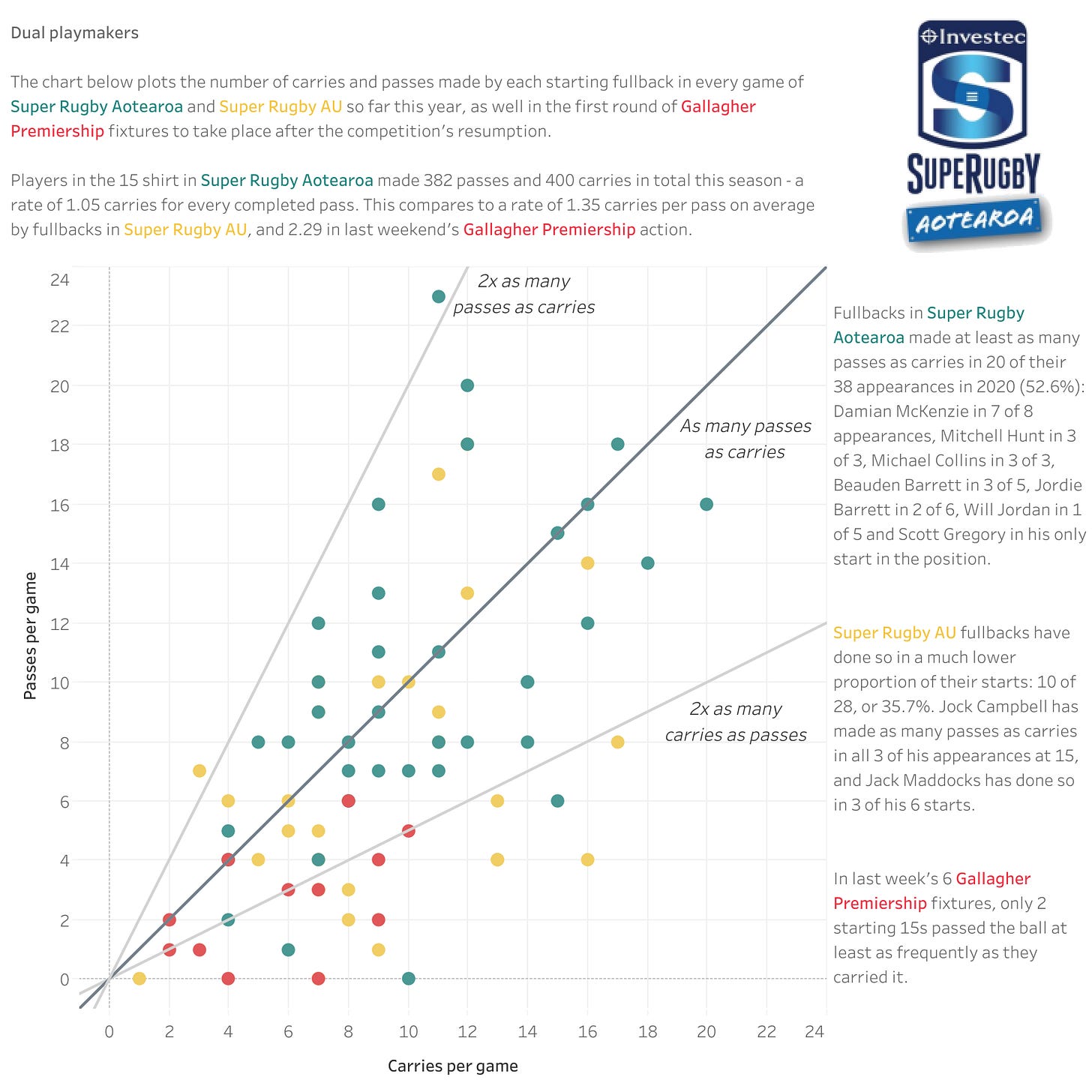 ---
False start
The developments of recent weeks will have reinforced to everyone at New Zealand Rugby the precarity of any plans they have for the professional game in 2021.
NZR Head of Professional Rugby Chris Lendrum acknowledged as much in a recent interview with the NZ Herald:
"We've learnt that we've got a really viable five-team competition if that's what we need to do next year…It's not our preference – we would ideally like to play a broader transttasman [sic] competition – but we just don't know whether we'll have the ability to do that. At New Zealand Rugby, what we're trying to do is carry both of those things at the same time and try and plan on a number of fronts. And hopefully time will provide us with a bit more certainty to what option we'll take."
Highlanders CEO Roger Clark has gone as far as stating publicly that another (likely tweaked) edition of Super Rugby Aotearoa is effectively "plan A" for the moment; regardless of the most likely outcome at this point in time, robust contingency planning has probably never been more important for the governing body.
As a consequence, Lendrum was clear that it is in NZR's best interests to focus a couple of years down the line and take a longer-term view on the future of Super Rugby - the priority, in his words, is "to make sure that 2021 is a stepping stone to whatever comes beyond in 2022".
With this timeline in mind, the Asia Pacific Dragons may be positioning themselves well to take a spot in an expanded Pacific club competition. The team is based in Singapore, and after missing out on a Super Rugby spot to the Sunwolves in 2014 were most recently sighted taking part in the 2019 edition of Andrew Forrest's Global Rapid Rugby tournament.
As reported by Liam Napier for the NZ Herald, the group - backed by sports marketing company Carinat - are explicitly aiming for entry to Super Rugby's replacement in 2 years' time. Although they would intend to play some of their matches in Auckland, director of rugby Hale T-Pole felt that their ability to "realistically bring the Asian market to the competition right out of blocks" is a major commercial advantage over other prospective entrants.
Another positive in NZR's eyes may be their proposed recruitment strategy. Unlike Kanaloa Hawai'i - who are looking to operate a second playing roster out of a South Auckland base - T-Pole has said that they will not pursue players of Pasifika origin based in New Zealand as a priority. As the director of rugby astutely noted, such a plan would likely garner little support from the country's 5 existing franchises, whose player bases it would erode.
With commercial potential, a clear desire to build relationships with Kiwi clubs and a timeline that accords with NZR's long-term vision, the Dragons shape as a viable option to take the leap - pandemic permitting - in 2022.
---
Wealth redistribution
New Zealand Rugby's selection policy for the upcoming men's North v South game - picking players based on their first professional province - has resulted in a lot of sniping from the Kiwi media, but it has unquestionably done a good job of rebalancing the nation's playing resources between the 2 islands.
According to Statistics New Zealand's 2019 population estimates by region, the North Island contains 76.5% of the country's population, and so coaches John Plumtree and Scott McLeod would have held a significant advantage if selection were to have been based on players' island of birth or of schooling.
Indeed, a similar proportion of the squads selected for the match received their education on Te Ika-a-Māui - 41 out of 56 players, or 73.2%. However, 17 of those 41 will be lining up for the South team in a couple of weeks' time.
Unsurprisingly, this is largely a consequence of the Canterbury and Crusaders' superlative development systems: 8 of these 17 players moved down to Christchurch from the North Island straight after school to begin their top-level careers.
---
Pass of the week
Black Fern Kendra Cocksedge played a more prominent role in a number of University's other tries in their 42-32 win over Christchurch on Saturday, but her contribution to Sarita De Gouw's score which opened the Canterbury Women's Premiership final exemplified the consistent excellence of her basic scrum-half skills.
From a lineout just inside the Christchurch half, Cocksedge sets up in the conventional 9 slot and rips a pass off her right to fly-half and Canterbury teammate Te Rauoriwa Gapper: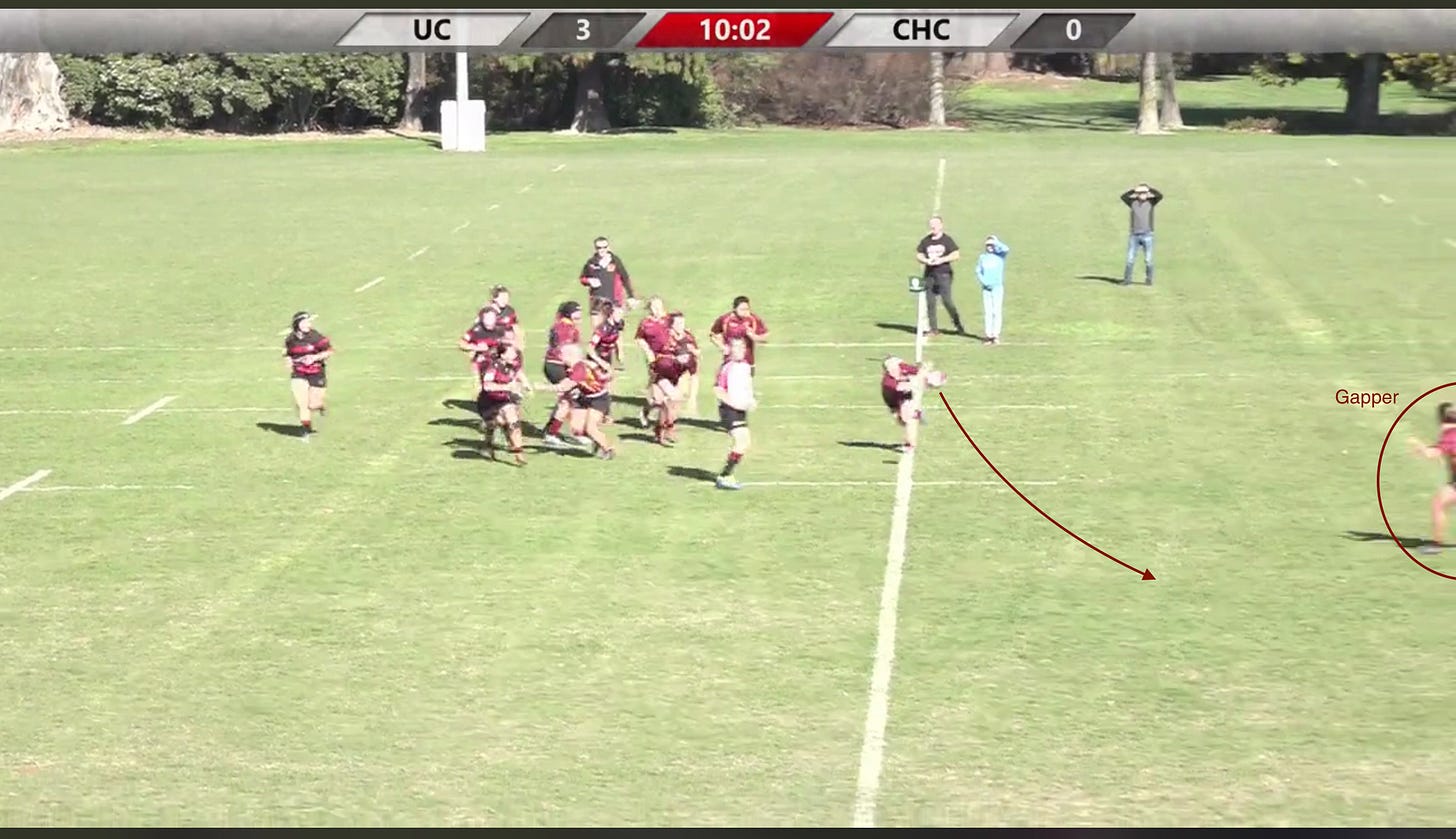 Gapper is able to hit the ball with momentum thanks to Cocksedge's accurate delivery, and moves the ball quickly onward to second five-eighth Olivia McGoverne to kickstart an intricate backline move.
Playing off a 5-person lineout, Varsity have 3 forward runners on McGoverne's right shoulder to hold the inside defence. After transferring the ball from first receiver, Gapper loops behind the sharp angle of centre Tayla Simpson, who is running a short line on McGoverne's left - a line she ran a few minutes earlier from a lineout in a similar position, receiving the ball and crashing over the advantage line.
This time, however, McGoverne delays her pass expertly and finds Gapper behind Simpson's screen. The fly-half again moves the ball along immediately; identifying Christchurch's high and narrow front-line defence, she finds Taylor Aldridge coming onto the ball at pace from deep from fullback. Aldridge draws the last backfield defender and releases De Gouw down the left, who brushes off a desperate cover tackle and finishes strongly in the corner.
She doesn't need any support, but Cocksedge's work across from the other side of the field is exceptional: she has streaked ahead of Christchurch's midfield defence in anticipation of the break, and is available on De Gouw's right shoulder to collect a pass or offload if the wing gets cut down short of the line.
You can watch the try in full - beginning at 09:52 on the game clock - here. Expect to see Cocksedge fizzing passes and popping up regularly with positive support lines for defending champions Canterbury when the Farah Palmer Cup kicks off in a few weeks' time.
---
Quick hits
Japan midfielder Timothy Lafaele - who grew up in Auckland, and is back in his home city helping to coach one of De La Salle College's 2nd XVs along with international teammate Hendrik Tui - provided some insight into the methods of a few high-profile Kiwi coaches he's worked with during his time in the country earlier this week. He told Alan Dymock of Rugby World about the simplicity of Wayne Smith's approach to the game:

"You've got all these other coaches trying to make up moves and stuff but if you run, use hands, you've just got to be square. It's running good lines. It's keeping stuff simple so the boys can understand easily and execute easily."

He also spoke about the environment Jamie Joseph and Tony Brown have cultivated around the Japanese national side, with particular emphasis on Brown's desire to have players training their handling in unconventional ways in order to actively develop difficult technical skills:

"[T]hey encourage the boys to have a crack all the time. And it's in games, not just at training. Having the confidence from the coaches means heaps when you go out to express yourself. Tony Brown, when he takes our backs and we're doing passing drills, we'll be doing normal passes and he'll chuck in, 'Nah, boys, this time all the passes have to be around the back – keep practising that.'"

Aaron Mauger - Brown's colleague at the Highlanders - was very positive about one of his young backs as he appraised the franchise's playing stocks for 2021:

"Ngane Punivai is another guy we see as a future leader. He's able to articulate really well what's going on, and gets out there and train hard and walks the talk. Guys like that are the future of this club."

His leadership qualities were previously noted by Reuben Thorne, who coached him during his time at Christ's College. He played the majority of his rugby for his school and for the New Zealand Secondary Schools side at fullback, but he has alternated between outside centre and wing during his career in the NPC and Super Rugby so far. While he has a sizeable frame, Mauger has previously intimated that he likes what he sees from the Canterbury product in the midfield:

"He's…a very good defensive read at getting through back-door plays and putting the attack under pressure."

Hurricanes head coach Jason Holland had words of praise for one of his young centres too. Earlier this week - before the squads for the North v South game were announced - he highlighted what he thinks of as the strongest aspects of Peter Umaga-Jensen's game:

"[H]e's got a skill set I think the ABs would like, with his dominance and ability to carry and get over the gain line."

Ryan O'Hanlon is one of the best soccer analysts out there. You can find him on Substack here; his latest free newsletter on PSG's Kylian Mbappe - "the perfect offense unto himself;…the deep-threat, the possession fulcrum, and the guy who puts the ball where it ultimately needs to go" - is excellent.

Finally, read Nick Bishop for The Roar on impressive young Australian flanker Fraser McReight, and how his speed across the ground helps balance out the bulk of Liam Wright and Harry Wilson in the Queensland Reds back row.
---
With no games taking place in New Zealand this coming weekend, there will be no edition of The Tip-On on Thursday 27th August.
Check out thechaserugby.com on Friday 28th August for a preview of the Steinlager North v South match and on Wednesday 2nd September for a preview of the Farah Palmer Cup before the newsletter returns on Thursday 3rd September.